Cindy Ellen: A Wild Western Cinderella (Hardcover)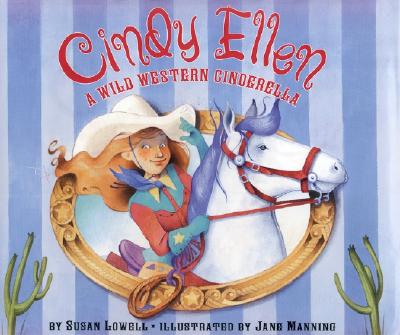 $18.99

PLEASE EMAIL OR CALL FOR AVAILABILITY
Description
---
From the author of The Three Little Javelinas comes a Wild West retelling of the classic Cinderella fairytale, perfect for fans of Little Ree by Ree Drummond, Prince Cinders by Babette Cole, Cinder Edna by Ellen Jackson, and Red Riding Hood as retold by James Marshall.
Once upon a time, there was a sweet cowgirl named Cindy Ellen, who lived with the orneriest stepmother west of the Mississippi and two stepsisters who were so nasty, they made rattlesnakes look nice! But when a fast-talkin' fairy godmother teaches Cindy Ellen a little lesson about gumption, Cindy lassos first place at the rodeo and the heart of Joe Prince....
You may think you've heard the story before—but you'll get a side-splittin' bellyache after you're through with this hilarious rendition told Wild West-style!
About the Author
---
Susan Lowell's family has lived in the American West since Gold Rush days. She is the author of several picture books for children, including The Three Little Javelinas, a Reading Rainbow Book, and The Bookmaker and the Elves, winner of a Spur Award from the Western Writers of America. Her novels for older children are I Am Lavina Cumming and The Boy with the Paper Wings. She and her husband and their two daughters divide their time between Tucson, AZ, and a ranch near the Mexican border.


Jane Manning is the illustrator of dozens of children's books, including the I Can Read books Baa-Choo! by Sarah Weeks and the New York Times bestselling The Witch Who Was Afraid of Witches by Alice Low. She lives in Connecticut.