American Spartan: The Promise, the Mission, and the Betrayal of Special Forces Major Jim Gant (Hardcover)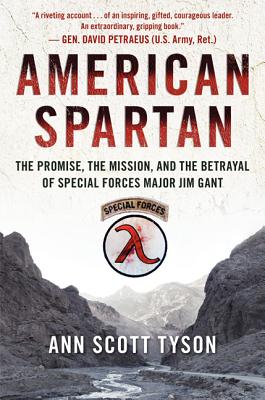 Description
---
Lawrence of Arabia meets Sebastian Junger's War in this unique, incendiary, and dramatic true story of heroism and heartbreak in Afghanistan written by a Pulitzer Prize–nominated war correspondent.
Army Special Forces Major Jim Gant changed the face of America's war effort in Afghanistan. A decorated Green Beret who spent years in Afghanistan and Iraq training indigenous fighters, Gant argued for embedding autonomous units with tribes across Afghanistan to earn the Afghans' trust and transform them into a reliable ally with whom we could defeat the Taliban and counter al-Qaeda networks. The military's top brass, including General David Petraeus, commander of U.S. Forces in Afghanistan, approved, and Gant was tasked with implementing his controversial strategy.
Veteran war correspondent Ann Scott Tyson first spoke with Gant when he was awarded the Silver Star in 2007. Tyson soon came to share Gant's vision, so she accompanied him to Afghanistan, risking her life to embed with the tribes and chronicle their experience. And then they fell in love.
Illustrated with dozens of photographs, American Spartan is their remarkable story—one of the most riveting, emotional narratives of wartime ever published.
About the Author
---
Ann Scott Tyson is a war correspondent with a decade of combat experience, beginning with the invasion of Iraq. A Pulitzer Prize nominee, she has written for the Christian Science Monitor and the Washington Post and contributed to the Wall Street Journal. She and Jim Gant are married and live in Seattle, Washington.
Praise For…
---
"A momentous account… The overall story is enticing, brutal, and current."
— Publishers Weekly

"An astonishing new account . . . This book will be read a lot longer than most books about the American war in Afghanistan. It especially will resonate with people interested in Special Forces… We need people like Gant to do real foreign internal defense."
— Tom Ricks

"Tyson concentrates on Gant's campaign, which produced plenty of fireworks, heroism, suffering and, this being Afghanistan, constant frustration. . . . One of the only satisfying products of a dismally unsatisfying war: this entertaining book."
— Kirkus Reviews

"American Spartan is a riveting, powerful account of the service of Major Jim Gant, a man seen by many of us as the "perfect counterinsurgent" . . . Ann Scott Tyson had a ring-side seat . . . and takes us there in this extraordinary, gripping book."
— General David H. Petraeus (US Army, Ret.)

"This story captivated me like no other I've read on combat action in Afghanistan. I don't condone Jim Gant's every decision or the way he did things, but I do respect the hell out of what he did as a warrior."
— Dalton Fury, author of Kill Bin Laden

"In the half-century since Robin Moore's The Green Berets, no other account of Special Forces at war could match its range and depth and candor-until now. American Spartan will enlighten and disturb readers with its searing honesty..."
— Dr. Kalev I. Sepp, former Green Beret and coauthor of Weapon of Choice

"The Catch-22 of the Afghanistan War, a mixture of romanticism, fantasy and hard-core dedication. . . . Read this book to savor the rich, candid details of love between a man and a woman, between Afghan and American comrades in battle, and between two cultures."
— Washington Post

"Masterfully written and moving . . . [American Spartan] is a must read and will stand the test of time."
— Chicago Tribune

"Tyson raises a host of serious questions about the nature of war, the many aspects of loyalty, and the price paid by America's front-line fighters."
— Christian Science Monitor