The Bones of Paradise: A Novel (Paperback)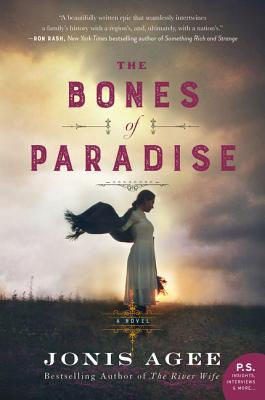 August 2016 Indie Next List
---
"Agee presents the saga of the Bennett family in the years following the massacre at Wounded Knee. Formed and altered by the unforgiving Nebraska Sandhills, the Bennetts are a rough, conflicted lot, and their story is filled with secrets, lies, betrayals, vengeance, and murder. Agee evokes a lost world and time without sentiment, but with a beautiful subtlety interrupted only by the true horrors of well-researched fact. A must-read for lovers of Western literature, family sagas, and historical fiction."
— Amanda Hurley (W), Inkwood Books, Tampa, FL
Description
---
The award-winning author of The River Wife returns with a multigenerational family saga set in the unforgiving Nebraska Sand Hills in the years following the massacre at Wounded Knee—an ambitious tale of history, vengeance, race, guilt, betrayal, family, and belonging, filled with a vivid cast of characters shaped by violence, love, and a desperate loyalty to the land.
Ten years after the Seventh Cavalry massacred more than two hundred Lakota men, women, and children at Wounded Knee, J.B. Bennett, a white rancher, and Star, a young Native American woman, are murdered in a remote meadow on J.B.'s land. The deaths bring together the scattered members of the Bennett family: J.B.'s cunning and hard father, Drum; his estranged wife, Dulcinea; and his teenage sons, Cullen and Hayward. As the mystery of these twin deaths unfolds, the history of the dysfunctional Bennetts and their damning secrets is revealed, exposing the conflicted heart of a nation caught between past and future.
At the center of The Bones of Paradise are two remarkable women. Dulcinea, returned after bitter years of self-exile, yearns for redemption and the courage to mend her broken family and reclaim the land that is rightfully hers. Rose, scarred by the terrible slaughters that have decimated and dislocated her people, struggles to accept the death of her sister, Star, and refuses to rest until she is avenged.
A kaleidoscopic portrait of misfits, schemers, chancers, and dreamers, Jonis Agee's bold novel is a panorama of America at the dawn of a new century. A beautiful evocation of this magnificent, blood-soaked land—its sweeping prairies, seas of golden grass, and sandy hills, all at the mercy of two unpredictable and terrifying forces, weather and lawlessness—and the durable men and women who dared to tame it. Intimate and epic, The Bones of Paradise is a remarkable achievement: a mystery, a tragedy, a romance, and an unflagging exploration of the beauty and brutality, tenderness and cruelty that defined the settling of the American West.
About the Author
---
Jonis Agee has been praised by the New York Times Book Review as "a gifted poet of that dark lushness in the heart of the American landscape." She is the award-winning author of twelve books, including the New York Times Notable Books of the Year Sweet Eyes and Strange Angels. Her awards include the John Gardner Fiction Award, the George Garrett Award, a National Endowment for the Arts grant in fiction, a Loft-McKnight Award, a Loft-McKnight Award of Distinction, and two Nebraska Book Awards. A native of Nebraska, Agee teaches at the University of Nebraska–Lincoln.
Praise For…
---
"From the opening image of a 'windmill slowly clanking in a wobbly circle' to the sublime final sentence, Jonis Agee's The Bones of Paradise is a beautifully written epic that seamlessly intertwines a family's history with a region's, and, ultimately, with a nation's. This is an ambitious novel." — Ron Rash, New York Times bestselling author of Above the Waterfall
"A deceptively leisurely, intensely heart-rending historical about greed and love gone wrong . . . Rose and Dulcinea are women strong enough to cow John Wayne. . . .[in] this sexy, violent, intricate Western." — Kirkus Reviews (starred review)
"Deadwood has nothing on Nebraska's Sand Hills. Jonis Agee serves up a gritty, bloody romance set a decade after Wounded Knee. Half murder mystery and half family saga, The Bones of Paradise is a spirited reweaving of history." — Stewart O'Nan, bestselling author of A Prayer for the Dying
"The finest western novel since Lonesome Dove, Jonis Agee's The Bones of Paradise is an epic saga with elements of a Greek tragedy." — New York Journal of Books
"A beautiful writer, [Agee is] back with a multigenerational saga set in the Nebraska Sand Hills—this is Cormac McCarthy country—in the years after the massacre at Wounded Knee. Agee has created indelible characters and a story that will stay with you for a long time." — San Antonio Express-News
"The Bones of Paradise is about the way those we love can bring us a new language and help us make it ours, and in so doing teach us how to ride in concert with the world." — Jim Shepard, award-winning author of The Book of Aron
"Agee's fast-paced narrative resembles the expansive prose of Larry McMurtry. Her lyrical writing and attention to detail evoke comparisons to Annie Proulx. . . . A captivating tale of life—and death—in the old American West." — BookPage
"A haunting tale . . . Agee brilliantly interweaves two stories of loss, guilt, and vengeance, which play out against the vivid backdrop of the [Nebraska] Sand Hills . . . Beautifully rendered and thought-provoking." — Booklist (starred review)
"The Bones of Paradise is part noir, part Western, and all kinds of good . . . a remarkable tale of greed and violence . . . Jonis Agee is a master novelist." — Dallas Morning News