Moonstick: The Seasons of the Sioux (Paperback)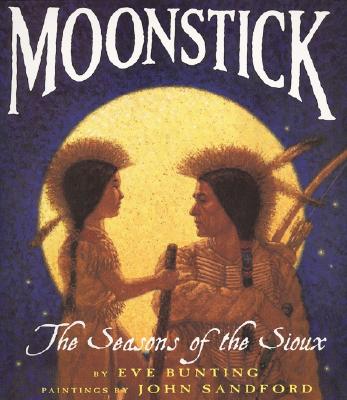 Description
---
My father cuts
a moon-counting stick
that he keeps in our tipi.
At the rising of the first moon
he makes a notch in it.
"A new beginning
for the young buffalo,"
he says.
"And for us."
In this beautifully written story by acclaimed author Eve Bunting, a young boy comes of age under the thirteen moons of the Sioux year. With each notch in his father's moon-counting stick, the boy marvels at the world around him, observing the sometimes subtle, sometimes remarkable changes in the seasons and in his own tribe's way of living. With rich and carefully researched paintings by artist John Sandford, Moonstick: The Seasons of the Sioux is a glorious picture book about one boy's journey toward manhood.
About the Author
---
Eve Bunting was born in Ireland and came to California with her husband and three children. She is one of the most acclaimed and versatile children's book authors, with more than two hundred novels and picture books to her credit. Among her honors are many state awards, the Kerlan Award, the Golden Kite Award, the Regina Medal, the Mystery Writers of America and the Western Writers of America awards, and a PEN International Special Achievement award for her contribution to children's literature. In 2002, Ms. Bunting was chosen to be Irish-American Woman of the Year by the Irish-American Heritage Committee of New York.
John Sandford, illustrator of
Moonstick, The Seasons of the Sioux
by Eve Bunting, studied drawing, painting, and illustration at the American Academy of Art in Chicago, IL. He lives in Grand Haven, Michigan. In His Own Words...
"I was born in Hannibal, Missouri, where we lived at the top of Hill Street in an old house that creaked with the adventures of five children and our parents. We later moved to Pontiac, Illinois, and filled a house with books, noise, crackpot ideas, and ill-tempered cats.
"I first heard stories at the family dinner table, but I was never quite clear about which were fact and which were fiction. I found more stories in the family library, some made vivid with illustration: N. C. Wyeth's robust Boy's King Arthur, Mead Schaeffer's painterly Three Musketeers, Maxfield Parrish's Arabian Nights, Robert Lawson's Rabbit Hill, and the curious drawings by Maud and Miska Petersham for The Rootabaga Stories."