Read All about It!: Great Read-Aloud Stories, Poems, and Newspaper Pieces for Preteens and Teens (Paperback)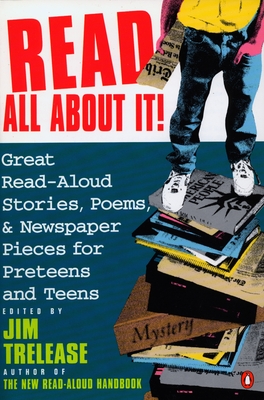 List Price: $20.00
Our Price: $16.00
(Save: $4.00 20%)
Description
---
A treasury of fifty sensational read-aloud pieces for young adults.
From Narrative of the Life of Frederick Douglass to Maniac Magee, sci-fi to op-ed, "Casey at the Bat" to a moving true story about the reunion of two Holocaust survivors, this wonderfully diverse collection of excerpts from newspapers, magazines, and books has been created by Jim Trelease especially to turn young people on to the many pleasures of reading. Here are thought-provoking columns from Mike Royko and Pete Hamill; excerpts from classics like To Kill a Mockingbird and "Rikki-tikki-tavi"; autobiographical sketches by Maya Angelou, Moss Hart, and others, highlighting the importance of reading in their lives; and much more. With selections representing many different cultures, genres, writing styles, and interests, Read All About It! is a wonderful introduction to the riches of literature and to a lifetime of reading.
About the Author
---
Jim Trelease is the editor of two anthologies, Read All About It! and Hey! Listen to This, and the author of the one that started it all, The Read-Aloud Handbook. His writing has appeared in the New York Times and the Washington Post.