The Day the World Ended at Little Bighorn: A Lakota History (Paperback)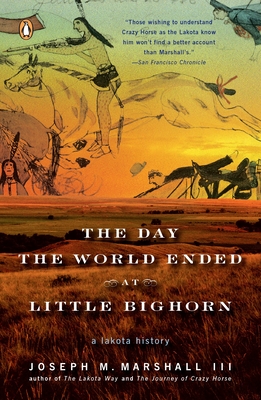 Description
---
The author of The Journey of Crazy Horse presents a legendary battle through the eyes of the Lakota

The saga of Custer's Last Stand, has become ingrained in the lore of the American West, and the key players Crazy Horse, Sitting Bull, and George Armstrong Custer have grown to larger-than-life proportions. Now, award-winning historian Joseph M. Marshall presents the revisionist view of the Battle of the Little Bighorn that has been available only in the Lakota oral tradition. Drawing on this rich source of storytelling, Marshall uncovers what really took place at the Little Big Horn and provides fresh insight into the significance of that bloody day.
About the Author
---
Joseph M. Marshall III, historian and storyteller, is the author of six previous books, including The Lakota Way: Stories and Lessons for Living, which was a finalist for the PEN Center USA West Award in 2002.  He was raised on the Rosebud Sioux Indian Reservation and his first language is Lakota. Marshall is a recipient of the Wyoming Humanities Award. He makes his home on the Northern Plains.