This Place, These People: Life and Shadow on the Great Plains (Hardcover)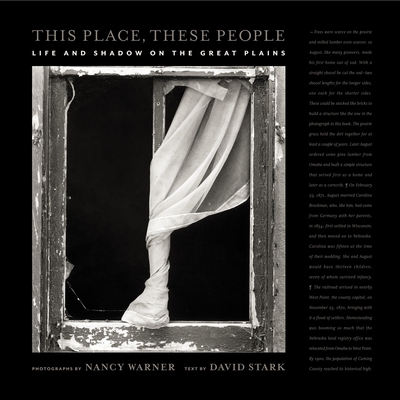 $39.95

Usually Ships in 1-5 Days
Description
---
The numbers of farms and farmers on the Great Plains are dwindling. Disappearing even faster are the farm places--the houses, barns, and outbuildings that made the rural landscape a place of habitation. Nancy Warner's photographs tell the stories of buildings that were once loved yet have now been abandoned. Her evocative images are juxtaposed with the voices of Nebraska farm people, lovingly recorded by sociologist David Stark. These plainspoken recollections tell of a way of life that continues to evolve in the face of wrenching change.
Warner's spare, formal photographs invite readers to listen to the cadences and tough-minded humor of everyday speech in the Great Plains. Stark's afterword grounds the project in the historical relationship between people and their land. In the tradition of Wright Morris, this combination of words and images is both art and document, evoking memories, emotions, and questions for anyone with rural American roots.
About the Author
---
David Stark is the Arthur Lehman Professor of Sociology and International Affairs at Columbia University, where he directs the Center on Organizational Innovation. His most recent book is The Sense of Dissonance: Accounts of Worth in Economic Life. Nancy Warner is a fine-art and portrait photographer based in San Francisco. Many of the photographs in this book were first exhibited at the Great Plains Art Museum as Going Back: Midwestern Farm Places (2008). The photographs are available for sale, exhibit, or licensing. Contact Nancy Warner at www.warnerphoto.com.