The Echo Maker: A Novel (Paperback)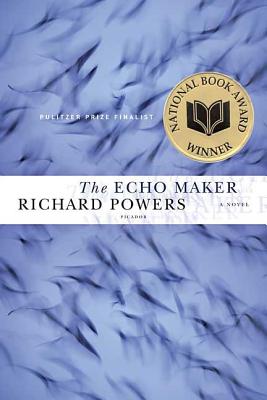 Description
---
Winner of the 2006 National Book Award

From the Pulitzer Prize–winning author of The Overstory and the Oprah's Book Club selection Bewilderment comes Richard Powers's The Echo Maker, a powerful novel about family and loss.

"Wise and elegant . . . The mysteries unfold so organically and stealthily that you are unaware of his machinations until they come to stunning fruition . . . Powers accomplishes something magnificent." —Colson Whitehead, The New York Times Book Review

On a winter night on a remote Nebraska road, twenty-seven-year-old Mark Schluter has a near-fatal car accident. His older sister, Karin, returns reluctantly to their hometown to nurse Mark back from a traumatic head injury. But when Mark emerges from a coma, he believes that this woman—who looks, acts, and sounds just like his sister—is really an imposter. When Karin contacts the famous cognitive neurologist Gerald Weber for help, he diagnoses Mark as having Capgras syndrome. The mysterious nature of the disease, combined with the strange circumstances surrounding Mark's accident, threatens to change all of their lives beyond recognition. In The Echo Maker, Richard Powers proves himself to be one of our boldest and most entertaining novelists.
About the Author
---
Richard Powers is the author of New York Times bestseller Bewilderment; The Overstory, which won the Pulitzer Prize in Fiction; and The Echo Maker, which won the National Book Award and was a finalist for the Pulitzer Prize; among many other novels. Powers has received a MacArthur Fellowship, a Lannan Literary Award, the James Fenimore Cooper Prize for Historical Fiction, and is a four-time National Book Critics Circle Award finalist. He lives in the foothills of the Great Smoky Mountains.
Praise For…
---
"A grand novel—grand in its reach, grand in its themes, grand in it patterning . . . If Powers were an American writer of the nineteenth century . . . he'd probably be the Herman Melville of Moby-Dick. His picture is that big."
—Margaret Atwood, The New York Review of Books

"Powers's most accessible novel to date, showing an ever-increasing skill at marrying his titanic smarts to plots that move and breathe . . . A novel of unseemly richness and complexity, never dry or condescending, always weaving its way towards an unsettling emotional climax."
—Patrick Ness, The Guardian

"A brilliant novel . . . A vision of wonder."
—The Boston Globe

"Fascinating . . . In the end we see what Powers, with his beautiful language and broad reach, always wishes to have us see: the eternal mystery of human personality and how it functions in the extreme drama of the modern world."
—O, The Oprah Magazine

"A kind of neuro-cosmological adventure . . . an exhilarating narrative feat . . . Powers is a formidable talent, and this is a lucid, fiercely entertaining novel."
—The Washington Post Book World

"Powers may well be one of the smartest novelists now writing . . . In The Echo Maker, Powers hopes to plumb the nature of consciousness, and he does so with such alert passion that we come to recognize in his quest the novel's abiding theme—What it means to be human will forever elude us."
—Los Angeles Times Book Review

"One of the year's most engrossing."
—Entertainment Weekly

"[Powers's] characters are unforgettable, flesh-and-blood individuals as finely drawn as those of any contemporary fiction writer."
—Steve Weinberg, The Seattle Times