Nigger: The Strange Career of a Troublesome Word (Paperback)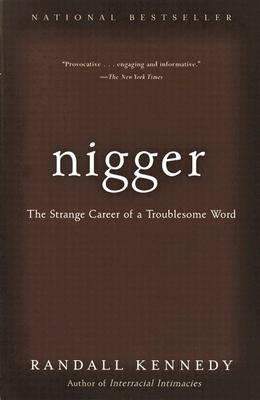 $15.95
Email or call for price.
Description
---
Randall Kennedy takes on not just a word, but our laws, attitudes, and culture with bracing courage and intelligence—with a range of reference that extends from the Jim Crow south to Chris Rock routines and the O. J. Simpson trial.

It's "the nuclear bomb of racial epithets," a word that whites have employed to wound and degrade African Americans for three centuries. Paradoxically, among many Black people it has become a term of affection and even empowerment.

The word, of course, is nigger, and in this candid, lucidly argued book the distinguished legal scholar Randall Kennedy traces its origins, maps its multifarious connotations, and explores the controversies that rage around it.

Should Blacks be able to use nigger in ways forbidden to others? Should the law treat it as a provocation that reduces the culpability of those who respond to it violently? Should it cost a person his job, or a book like Huckleberry Finn its place on library shelves?
About the Author
---
Randall Kennedy received his undergraduate degree from Princeton and his law degree from Yale. He is a Rhodes Scholar and served as a law clerk to Supreme Court Justice Thurgood Marshall before joining the faculty of the Harvard Law School. A member of the American Academy of Arts and Sciences, the American Philosophical Association, and the American Law Institute, Mr. Kennedy lives in Dedham, Massachusetts.
Praise For…
---
"Provocative. . . . engaging and informative." —The New York Times

"Should be required reading. . . . This little book deserves to be read especially if we seek better understanding of ourselves and others." –The Dallas Morning News

"Demonstrates a key truth about the N-word. . . . it tracks our racial history and stars in a slew of court decisions that reveal large truths about bigotry and free expression."–Philadelphia Inquirer

"A detailed, well-researched book. . . . Kennedy boils centuries of usage–in conversation, literature, legal proceedings–down to the most pertinent and instructive." –San Francisco Chronicle