Blood Ties (Spirit Animals, Book 3) (Hardcover)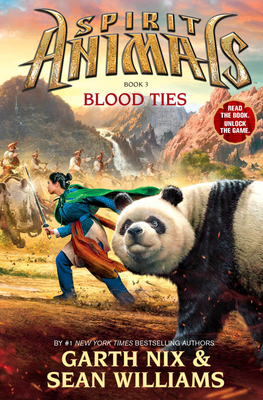 Description
---
The adventure continues in this third book in the New York Times bestselling series.Erdas is a land of balance. A rare link, the spirit animal bond, bridges the human and animal worlds. Conor, Abeke, Meilin, and Rollan each have this gift-and the grave responsibility that comes with it. But the Conquerors are trying to destroy this balance. They're swallowing whole cities in their rush for power-including Meilin's home. Fed up with waiting and ready to fight, Meilin has set off into enemy territory with her spirit animal, a panda named Jhi. Her friends aren't far behind . . . but they're not the only ones. The enemy is everywhere.
About the Author
---
Garth Nix is the New York Times bestselling author of the Old Kingdom series, a modern classic of fantasy literature that includes the novels Sabriel, Lireal, Abhorsen, and Clariel. He is also the author of The Keys to the Kingdom series, Shade's Children, A Confusion of Princes, Newt's Emerald, and (with Sean Williams) the Troubletwisters series, among other novels. You can find out a whole lot more about him at garthnix.com.
New York Times bestselling author Sean Williams lives in Adelaide, South Australia. He is the author of over 6- published short stories and 22 novels, and has written several novels in the Star Wars universe.
Praise For…
---
Praise for Spirit Animals
A New York Times bestseller
"Mull kicks off the multiplatform Spirit Animals series with an exciting first installment." —Publishers Weekly
"Mull masterfully draws readers in . . . [they] will have a hard time putting this book down." —School Library Journal
"An insightful look at what it means to be a hero, with the glory it brings and the sacrifice it demands. The accompanying game offers an exciting off-page experience." —Kirkus
"These authors at the top of their games offer an exciting narrative and place reader's one step closer to an inevitably epic conclusion" —Booklist
Praise for Spirit Animals
A New York Times bestseller
"Mull kicks off the multiplatform Spirit Animals series with an exciting first installment." —Publishers Weekly
"Mull masterfully draws readers in . . . [they] will have a hard time putting this book down." —School Library Journal
"An insightful look at what it means to be a hero, with the glory it brings and the sacrifice it demands. The accompanying game offers an exciting off-page experience." —Kirkus
"These authors at the top of their games offer an exciting narrative and place reader's one step closer to an inevitably epic conclusion" —Booklist