Joy of Bocce (Paperback)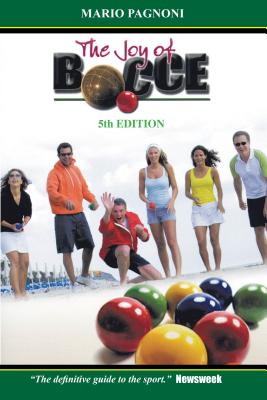 $16.95

Usually Ships in 1-5 Days
Description
---
The Joy of Bocce, 5th Edition is the authority on Americas greatest and simplest recreational pastime. Bocce is a game that can be played by anyone almost anywhere, requires less space and equipment than its many assorted recreational rivals. It is safer than tossing quoits or horseshoes and more fun than a backyard Super Soaker water gun fight

Illustrated with more than 100 photographs and diagrams The Joy of Bocce is the one and only most trusted source of information on this classic game. Readers will learn the history of the game, how to play it, mastering technique and strategy, and playing on a variety of surfaces. You can even learn how to build your own Bocce court.

This book gets the word out on what is the best-kept secret in sports bocce The Joy of Bocce is fun to read and literally the first of many joys in taking up the game.

Bocce is growing in popularity. It is played in many forms worldwide, and is an official event of the Special Olympics. Bocce is thriving in all areas of the United States and has been rightfully crowned the recreational sport for all the family. The Joy of Bocce seeks to dispel the many misconceptions about bocce and promotes it as a backyard game that is an ideal recreational activity for family cookouts, picnics and other get-togethers.