Woven on the Wind: Women Write about Friendship in the Sagebrush West (Paperback)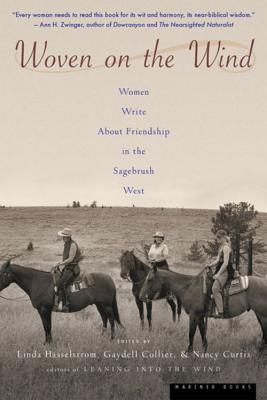 Description
---
The grassroots publishing sensation continues with WOVEN ON THE WIND, the second volume of women's writing from the heart of the American West compiled by the editors and ranchers Linda Hasselstrom, Nancy Curtis, and Gaydell Collier. They called on women in sixteen states and provinces to write about their friendships with other women in the West, a subject that they discovered has all too often been overlooked or underplayed. The result is WOVEN ON THE WIND, a unique and exhilarating collection, "a beautiful, intricate mosaic of women as mothers as well as friends" (Fencepost). In a region where time and space are large and solitude is a fact of life, these women tell of the beauties, ironies, rigors, heartbreak, and humor of life and how it is uniquely enriched by friendships past and present. The voices in this volume -- unsentimental, unflinching, and utterly unforgettable -- take readers into the fields, kitchens, barns, and souls of nearly 150 women and reveal a vital part of the real western American story. "Here is the essence of the West -- not the myth, but the truth."
About the Author
---
LINDA HASSELSTROM is the author of many highly acclaimed books of nonfiction and poetry and the coeditor of Leaning into the Wind and Woven on the Wind. She divides her time between Wyoming and South Dakota.

Based in Wyoming, Gaydell Collier is the coauthor of several books on horsemanship.