Bucking the Sun: A Novel (Paperback)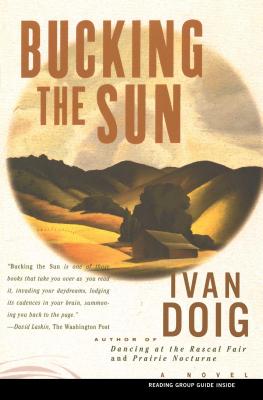 Description
---
Bucking the Sun is the story of the Duff family, homesteaders driven from the Montana bottomland to work on one of the New Deal's most audacious projects—the damming of the Missouri River.

Through the story of each family member—a wrathful father, a mettlesome mother, and three very different sons, and the memorable women they marry—Doig conveys a sense of time and place that is at once epic in scope and rich in detail.
About the Author
---
Ivan Doig (1939-2015) was a third-generation Montanan and the author of sixteen books, including the classic memoir This House of Sky and most recently Last Bus to Wisdom. He was a National Book Award finalist and received the Wallace Stegner Award, among many other honors. Doig lived in Seattle with his wife, Carol. Visit IvanDoig.com.
Praise For…
---
David Laskin The Washington Post Bucking the Sun is one of the books that takes you over as you read it, invading your daydreams, lodging its cadences in your brain, summoning you back to the page.

E. Annie Proulx author of Accordion Crimes and The Shipping News Ivan Doig is one of the best we've got -- a muscular and exceedingly good writer who understands our hunger for stories.

Chicago Sun-Times Doig now has to be considered the premier writer of the American West.

Entertainment Weekly Bucking the Sun...derives its narrative energy from as tangled a web of familial and psychosexual rivalries as one is apt to encounter this side of Hamlet or The Brothers Karamazov.

John Harvey San Francisco Chronicle Doig has achieved his most adroit blend of fact and fancy in what is perhaps his best book since This House of Sky. What sets Doig apart from others who have farmed the same terrain is the deft way he handles the fruits of his research; fact and anecdote are woven into the text with a light and often humorous touch.