NEBRASKA: 150 YEARS TOLD THROUGH 93 COUNTIES (Hardcover)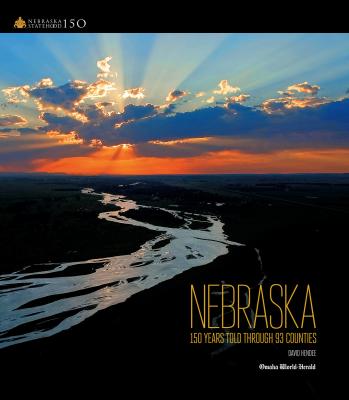 $29.95

PLEASE EMAIL OR CALL FOR AVAILABILITY
Description
---
The World-Herald's David Hendee brings the state's history to life in a new book, Nebraska: 150 Years Told Through 93 Counties. The counties have served as the building blocks for Nebraska, and Hendee weaves their stories into a tapestry of Nebraska's people, places and events.
It's only natural The Omaha World-Herald would help celebrate the sesquicentennial. The newspaper has chronicled Nebraska's journey daily since the 1865 founding of the Omaha Daily Herald by George L. Miller. In the 1930s.
The World-Herald published a series of county-by-county historical drawings by staff artist Mike Parks titled, "Nebraska in the Making." A generation later, The World-Herald re-published the popular illustrations in the newspaper's Magazine of the Midlands to set the stage for Nebraska's centennial in 1967. Those drawings once more help bring the past to life in Nebraska: 150 Years Told Through 93 Counties, along with the work of the newspaper's award-winning photographers.
Also featured are photographs from "Bridges: Sharing Our Past to Enrich the Future," an initiative by the Hildegard Center for the Arts, in partnership with the Nebraska Tourism Commission and the Nebraska State Historical Society. The images highlight historical and culturally significant places in all 93 counties.

About the Author
---
David Hendee grew up in Sidney and graduated from Sidney High School and Midland Lutheran College in Fremont. He has spent more than 40 years as a reporter and editor for the Omaha World Herald, covering blizzards, tornadoes,floods, agriculture, crime, elections, wildfires, regional and national public policy, outdoor recreation - and fans of Cornhusker football and the College World Series. The stories have taken him to each of Nebraska's 93 counties and hundreds of communities, farms and ranches across the Great Plains. He has filed dispatches from the White House, the state's first mountain lion hunt, the sandhills cranes' Alaska range, the Canadian Rockies, the ballistic missile submarine USS Nebraska and the Demilitarization Zone in South Korea. Hendee has been the North American Agricultural journalists' farm writer of the year and received the Outdoor Writers Association of America's sweepstakes award.
Praise For…
---
This book is beautifully photographed and designed. The brief historical items are well chosen to further illuminate the states historical journey. A near perfect gift for for the coffee tables of Nebraskans, ex or current.

Duane Gudgel, The Plains Trading Company Booksellers