Construction (Hardcover)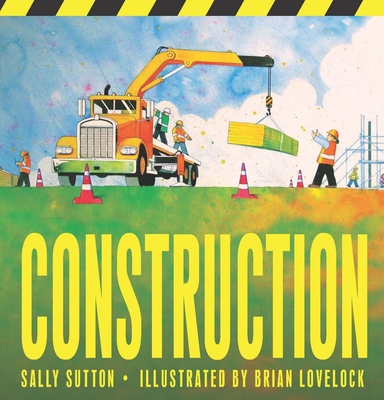 $17.99

PLEASE EMAIL OR CALL FOR AVAILABILITY
Description
---
Thonk! Clonk! Clap! The team behind Roadwork and Demolition returns to the construction site, where big machines and busy workers dig, hoist, and hammer away.

There's lots of noise and excitement involved in building a library! Preschoolers will clamor to take a close look. Award-winning duo Sally Sutton and Brian Lovelock are back with another rhythmic read-aloud full of bustling illustrations and sound words that beg kids to join in.
About the Author
---
Sally Sutton is a playwright and the author of Roadwork and Demolition, both illustrated by Brian Lovelock, and Farmer John's Tractor, illustrated by Robyn Belton. Sally Sutton lives in New Zealand.

Brian Lovelock illustrated Roadwork and Demolition by Sally Sutton as well as The Rain Train by Elena de Roo,Did My Mother Do That? by Sharon Holt, and Flight of the Honey Bee by Raymond Huber. A geophysicist and fine artist, Brian Lovelock lives in New Zealand.
Praise For…
---
The New Zealand duo who created Roadwork and Demolition turn their considerable talents to the building of a library. ... Printed in large, clear letters, the rhythmic text uses basic vocabulary, strong verbs, and onomatopoeia, making it wonderful to read aloud. Artwork is done in ink, acrylic, and colored pencil on full-bleed spreads where pigmented inks and a variety of perspectives are used to great effect. ... The simplicity of the telling and the rich details in the spreads make this a must-have for all libraries serving young children.
—School Library Journal (starred review)

Sutton and Lovelock are back for more fun combining dynamic text and illustrations for little builders. ... Sutton's rhythm and rhyming text pulsates, moving the pace along briskly. "Dig the ground. Dig the ground. / Bore down in the mud." Onomatopoeia rounds out each stanza: "Shove the piles in one by one. / Slip! SLAP! THUD!" Bold, bright illustrations convey the scope of the effort and machinery required to lift stacks of lumber or sheets of plate glass into place. ... There's always room for one more good construction book: Make a spot for this one.
—Kirkus Reviews

With plenty of onomatopoeia and action verbs, the rhyming text effectively brings the sounds of a construction site to life. Lovelock's illustrations, cleanly rendered in pigmented inks, portray activity without being overly busy themselves. The text and art move briskly through the various building stages—from digging holes for foundation piles to laying pipes to moving in "shelves and books." Listeners will enjoy guessing what the new building will be before the last spread reveals: "The library's here for everyone. / Ready… / STEADY… / READ!"
—Horn Book

Along with speckles and spatters of paint that add a suitably rugged look, the illustrations depict on-site views of a crane, a concrete pumper, and other machines in use, capped by a final page of identifers and descriptive notes. Bread and butter for budding building boffins.
—Booklist Online

This is a fun book with melodic verse, colorful images, and onomatopoeia which will have children jumping out of their seats.
—Library Media Connection