Blasphemy: New and Selected Stories (Paperback)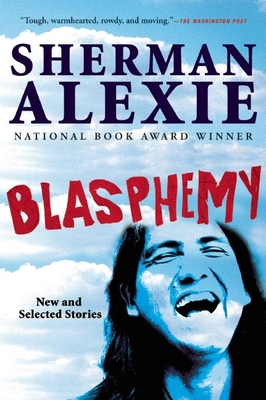 Description
---
Alexie once again reasserts himself as one the most compelling contemporary practitioners of the short story. In Blasphemy, the author demonstrates his talent on nearly every page. . . . Will appeal to fans of Junot Diaz, George Saunders, and readers new to Alexie will find this enriching collection to be the perfect introduction to a formidable literary voice. . . . Alexie] illuminates the lives of his characters in unique, surprising, and, ultimately, hopeful ways.--Boston Globe Told in Alexie's] irreverent, unforgettable voice . . . You'll feel you've been transported inside the soul of a deeply wounded people. But they are a people too comfortable in their brown skins to allow those wounds to break them. . . . With irony and sardonic wit, the Native men and women in Alexie's imagination find a way forward, and they endure. . . . A] great triumph.--Los Angeles Times

Sherman Alexie's stature as a writer of stories, poetry, and novels has soared over the course of his twenty-book, twenty-year career. His wide-ranging, acclaimed fiction throughout the last two decades--from The Lone Ranger and Tonto Fistfight in Heaven to his most recent PEN/Faulkner Award-winning War Dances--have established him as a star in contemporary American literature. A bold and irreverent observer of life among Native Americans in the Pacific Northwest, the daring, versatile, funny, and outrageous Alexie showcases his many talents in Blasphemy, where he unites fifteen beloved classics with sixteen new stories in one sweeping anthology for devoted fans and first-time readers. Included here are some of his most esteemed tales, including "What You Pawn I Will Redeem," in which a homeless Indian man quests to win back a family heirloom; "This Is What It Means to Say Phoenix, Arizona," a road-trip morality tale; "The Toughest Indian in the World," about a night shared between a writer and a hitchhiker; and his most recent, "War Dances," about a man grappling with sudden hearing loss in the wake of his father's death. Alexie's new stories are fresh and quintessential, about donkey basketball leagues, lethal wind turbines, a twenty-four-hour Asian manicure salon, good and bad marriages, and all species of warriors in America today. An indispensable Alexie collection, Blasphemy reminds us, on every thrilling page, why Alexie is one of our greatest contemporary writers and a true master of the short story.
About the Author
---
Alexie is a poet, novelist, and screenwriter. He has won the Pen/Faulkner Award, Stranger Genius Award in Literature, Boston Globe-Horn Book Award for Excellence in Children's Literature, and the Malamud Award.