Like No Other Place: The Sandhills of Nebraska (Paperback)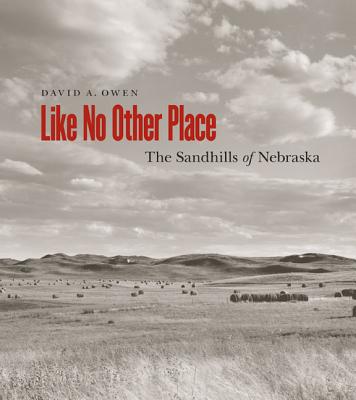 $24.95

Usually Ships in 1-5 Days
Description
---
Covering nearly twenty thousand square miles, the Sandhills of Nebraska is a rich and layered region that is home to one of the most productive ranching areas in the country. In  2008 and 2009, photographer and storyteller David A. Owen traveled through western Nebraska to capture the unconventional beauty of the geography and singular way of life of the residents there. Connecting the everyday activities of the ranchers and residents he encounters to the vast, isolated landscape, Owen provides a fascinating window into this dazzling area of America.
Through Owen's fine ear and eye, Like No Other Place takes the reader on a memorable journey into an out-of-the-way destination that is part of a modern American West and yet still organically linked to its past. Owen's photographs and stories tell of a remarkable region where history, legend, memory, and reality are all intertwined.
About the Author
---
David A. Owen is a retired Episcopal minister. His photographs of the Sandhills have been exhibited in Nebraska and Connecticut and were twice featured in Nebraska Life magazine.
Praise For…
---
"David Owen has beautifully captured the rhythms of the Nebraska Sandhills in his new book. His essays and photographs convey his affection and deep respect for the land and the people, and he captures the essence of this distinctive and magnificent American place."—David J. Wishart, editor of The Encyclopedia of the Great Plains

"Whether you've driven the back roads of America's Great Plains or simply dreamed about it, this book allows armchair travelers to experience the heartland up close and personal."—Sandy Amazeen, Monsters and Critics

"Owen's account would not be the rich anthology of the Sandhills that it is without the stories of the people living there, and the very land itself that, like a wind-sculpted dune, made those people who they are."—Alan J Bartels, Nebraska Life