The Niobrara: A River Running through Time (Paperback)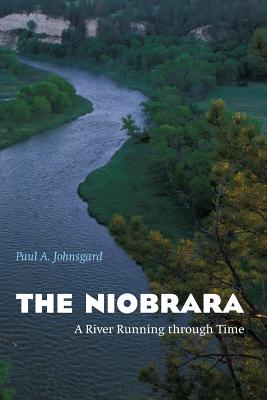 Description
---
Although its history is etched on canyon walls reaching back twenty million years, the Niobrara is very much a river of today. Stretching 535 miles from its headwaters to the Missouri River, it is one of Nebraska's least altered waterways and is designated as a national scenic river. Its waterfalls and wildlife make it a haven for outdoor enthusiasts, but pressures from development still threaten its scenic and ecological wonders.
This first book-length study of the Niobrara is a comprehensive look at an ecological treasure. Paul A. Johnsgard reviews the river's history from its geologic past through prehistoric settlement to the present and highlights its historical and biological features.
Writing from this crossroads of eastern and western species, Johnsgard also describes the Niobrara's varied plants and animals, providing extensive information on bird populations. He offers portraits of sixteen species of special conservation concern, such as the black-tailed prairie dog and the olive-backed pocket mouse. Drawings by Johnsgard, information tables on various species, plus site lists make the book an invaluable reference. It conveys the Niobrara's value as a recreational and scientific resource to help visitors better appreciate this riparian paradise while offering specialists an unimpeachable guide to its scientific riches. The Niobrara includes chapters by Jon Farrar and Duane Gudgel.
About the Author
---
Paul A. Johnsgard, a regular visitor to the Niobrara for more than four decades, is Foundation Regents Professor Emeritus in the School of Biological Sciences at the University of Nebraska–Lincoln and an elected fellow of the American Ornithologists' Union since 1961. He is author of more than four dozen books on natural history, most recently Prairie Dog Empire: A Saga of the Shortgrass Prairie (Nebraska 2005).
Praise For…
---
"Johnsgard's book is not a travel guide. It is the first comprehensive look at the geological, paleontological and natural history of the river valley, a reference book for people who want to know how the valley came into being and what makes it such a rare and beautiful place."—Algis J. Laukaitis, Lincoln Journal Star
— Lincoln Journal Star
"Paul Johnsgard's The Niobrara is one of the very best books—if not the very best—he has written. . . . [It] displays the variety of Johnsgard's talents. It combines graceful readability with his own sketches in a book overflowing with the evolutionary history of the remarkable Niobrara Valley."—Harold Andersen, Omaha World-Herald
— Omaha World-Herald
"Johnsgard's book is the ultimate reference guide for an amateur natural scholar. . . . The Niobrara is perfectly suited as a source for research projects in high school, beginning college students, and those with a long-established, deep interest in the river."—Nebraska Life
— Nebraska Life
"This is a natural history of Nebraska's most beautiful river, by a master biologist who is very familiar with the scientific literature of the Niobrara and its valley and watershed."—Francis Moul, Lincoln Journal Star
— Lincoln Journal Star