Lana's Lakota Moons (Paperback)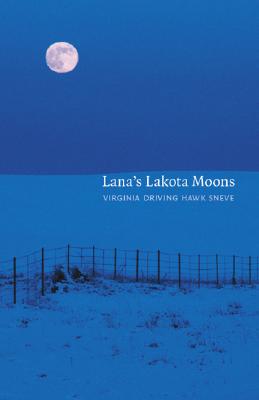 Description
---
This charming and poignant contemporary story about two Lakota girls and their Laotian friend illuminates for children and adults the Lakota meaning of family, friendship, life, and death. In the Lakota way, Lana and her cousin Lori are like sisters, growing up together under the caring eyes of an extended family of parents and grandparents. Also like sisters, they have their share of squabbles and fights, but when they meet a new girl at school who has recently arrived from Laos, they are drawn closer by their shared friendship, their discoveries about cultural differences, and their experience with loss and death. An image of footprints in the snow, one under the other so that it looks as if only one person is walking, becomes the central compelling image in the story. "We can't keep snow from melting," says Grandpa, "But the footprints will always be there, even if we can't see them."
Taking her inspiration from Lakota and Asian students in her home state of South Dakota, award-winning children's writer Virginia Driving Hawk Sneve has crafted a simple story of friendship that survives a tragic year, beautifully illuminating along the way many profound truths about the human spirit.
About the Author
---
Virginia Driving Hawk Sneve is a well-known author of stories and essays about Native American life and culture and a recipient of the National Humanities Medal. She is the author of Grandpa Was a Cowboy and an Indian and Other Stories and The Trickster and the Troll, both available in Bison Books editions. Her memoir, Completing the Circle (Nebraska 1995) won the North American Indian Prose Award.
Praise For…
---
"Both educational and historical in nature, Lana's Lokota Moons is sure to capture the interest of the young and the young-at-heart. With its beautifully narrated legends and amusing characters, Sneve has created a story that is both a tribute to her heritage and a poignant chronicle of the end of adolescent innocence."—ForeWord
— Amy Falberg
"I can't imagine a young reader of this book who won't be drawn to the portrait of the strong community around these girls that Driving Hawk Sneve creates."—Jenny Shank, New West
— Jenny Shank
"[An] unassuming yet potent chronicle of a fateful year in the lives of two preteen cousins."—Publishers Weekly
— Publishers Weekly
"The mix of Great Plains history with the contemporary scene rings true. . . . Lori's lively personal narrative will draw readers as she copes with anger, guilt, sorrow, and finally, the loss of her sister, even as she realizes that, in the Lakota way, the girls will always be connected."—Hazel Rochman, Booklist
— Hazel Rochman
"This beautifully written short volume by an award-winning Lakota author tells a story of two modern day preteen Lakota cousins, Lana and Lori, their families and their growing up in the Lakota way."—Kliatt

— Kliatt
"This is a story seeped in native traditions, and as Lori and Lana learn about their Indian ancestors, we learn to appreciate life and family."—Nina Murray, Skipping Stones
— Nina Murrary