Choteau Creek: A Sioux Reminiscence (Paperback)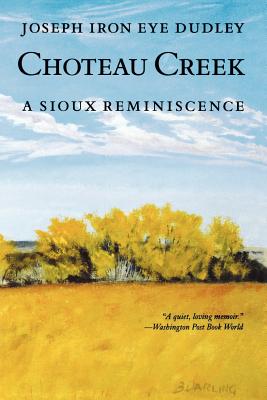 Description
---
From the time he was three years old, in 1943, Joseph Iron Eye Dudley was raised by his grandparents on the Yankton Sioux Reservation. Their tiny weatherbeaten house, nestled in a bend of Choteau Creek on the rolling South Dakota prairie, is where he grew up, and this moving reminiscence recreates with warmth and candor a childhood poor in material goods but overflowing with spiritual wealth.
"Much has been written," says the author, "by and about Native American people who are active in political and social movements, and much has been said about the appalling conditions of reservation life. This book is about the common, quiet people who never make the headlines or find their names in print. They are the backbone of the reservations, the ones who pass on the values that make Native American what they are. This story of my grandparents reminds us that there is a spirit in people which enables them to rise above the potential devastation of poverty and racism into a life marked by humor and laughter, one that radiates love and kindness."
About the Author
---
Joseph Iron Eye Dudley (Iron Eye is his ancestral family name, which he has reclaimed) is a member of the Yankton Sioux Tribe and an ordained United Methodist minister. He frequently lectures and gives workshops on topics such as racism, intercultural relations, and Native American spirituality.