Nebraska: A Guide to the Cornhusker State (Paperback)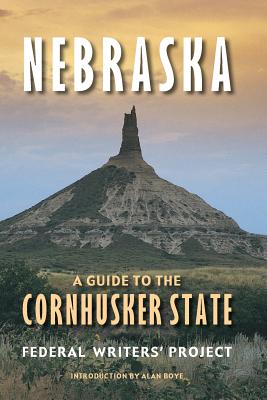 $21.95

Usually Ships in 1-5 Days
Description
---
First published in 1939, Nebraska: A Guide to the Cornhusker State was collaboratively written by the Federal Writers' Project (FWP). As part of the Works Project Administration, the FWP gathered together some of the best writers of the era. Collectively, they undertook a nationwide initiative to record information about America and create comprehensive guides to their respective states. The wonderful results were a well-written blend of travel guide, ethnography, local history, and cultural document.
This guide to the Cornhusker State brought together Nebraska writers such as Weldon Kees, Mari Sandoz, and Loren Eiseley. These respected authors created a remarkable compendium that includes chapters on the state's history, environment, peoples, flora and fauna, government, agriculture and industry, folklore, architecture, art, and literature. Rewarding reading for the armchair traveler and a companion for the tourist, Nebraska captures an era and makes accessible to readers information that is not readily available outside archives.
About the Author
---
Alan Boye is a professor of English at Lyndon State College in Vermont. His books include Holding Stone Hands: On the Trail of the Cheyenne Exodus, available in a Bison Books edition.
Praise For…
---
"First published in 1939, the Guide remains a good introduction to the state's history and geography. As a travel guide it is out of date, of course, but what was intended to aid the new breed of auto travelers now provides a detailed portrait of Nebraska life in the 1930s. Take this book along on your travels through the state and you'll see present and past simultaneously. . . . More than 60 years later, no Nebraska guidebook has duplicated this volume's eclecticism and level of detail, a work of interest both to historians and casual readers."—Nebraska Life