Some More Horse Tradin' (Paperback)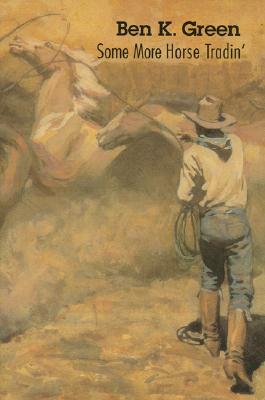 Description
---
From the same corral that produced the widely loved
Horse Tradin'
, Ben K. Green has rounded up fifteen new yarns filled with the ornery yet irresistible style that has earned his books a place in classic Western Americana.
Some More Horse Tradin' recounts the dealings of a whole slew of craggy old-timers and rangy characters. See them match wits as they trade well-bred mares, snorty-like range colts, and used-to-be-bad horses from the tumbleweed plains. Admire the old-time knavery, skill, and salesmanship in such tales as "Gittin' Even," "Brethren Horse Traders," "Mule Schoolin'," and "Water Treatment and the Sore-Tailed Bronc." Ride along with Green, and he'll tell you what he knows about horseflesh--but keep your wits about you, and hang on to your wallet.
About the Author
---
Ben K. Green was a veterinarian who practiced his profession in one of the last big horse countries in North America. When he gave up his practice, he returned to his hometown of Cumby, Texas, where he raised horses and cattle until his death in 1974.
Praise For…
---
"Ben Green has won the approval of the sternest literary critics I know—ranch cowboys. In old Doc's books, they recognize a man who knew horses and cattle to the bone and could tell about them with honest prose and a sly cowboy sense of humor. I've read them all, as have most of the cowboys I know."—John R. Erickson, rancher and author of the Hank the Cowdog series
— John R. Erickson