The Last Prairie: A Sandhills Journal (Paperback)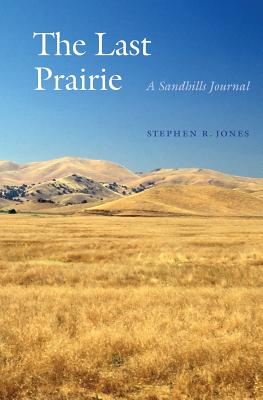 Description
---
The Nebraska Sandhills are the largest remaining relic of the majestic prairies that once extended from the Missouri River to the Rocky Mountains. This vast but fragile expanse comes to life in The Last Prairie, a collection of twenty essays by Stephen R. Jones ranging from fascinating descriptions of dancing prairie-chickens, courting fireflies, and the annual migratory flight of a half-million sandhill cranes to equally vivid accounts of trailblazing homesteaders, range wars, and devastating storms. The Last Prairie is both a paean and an elegy for a place where you can walk for miles through shoulder-high grass or sit on a hill for hours with only the cry of the curlew and the hiss of the wind for company—a place Jones sought for decades and for whose survival he now fears.

The author's vast historical canvas lends a rare perspective and urgency to the book's discussion of recent efforts to save the Niobrara River from dams and developers. Jones speaks eloquently to such timeless themes as humanity's search for community and the ties that bind us with nature. Infused with quiet pathos and vibrant imagery, The Last Prairie is a triumph of the essayist's art.
About the Author
---
Stephen R. Jones is the coauthor of Colorado Nature Almanac and The Shortgrass Prairie. Named by the National Wildlife Federation as one of ten "volunteers who make a difference," Jones works as a teacher and environmental consultant in breeding-bird ecology.
Praise For…
---
"Reading this book is as pleasant an experience as actually viewing the tall, gently waving prairie grasses and pastoral scenes that Jones describes."—Library Journal

"[A] gem of Great Plains environmental writing. Stephen Jones has given us a collection of his undated journal entries that represent an interesting combination of nature writing, history, and anecdote. . . . The strength of this work for this reviewer is its acknowledgment and investigation of the intimacy indigenous peoples had with this environment. One finds the footprints of Mari Sandoz, Aldo Leopold, and John Neihardt in this must-read for Sandhills enthusiasts. As Jones's own 'love song to the plains,' The Last Prairie captures the region's rich history with a depth often overlooked in other writings on the Great Plains."—Douglas Harvey, Journal of the West

"Jones does a remarkable job of capturing the variety, texture, and integrity of the Sandhills environment—including the plant and animal life as well as the ranching community and the historical fabric that work to create this complicated landscape. . . . An interesting contribution to the field of nature writing in several respects. First, it richly describes a region of the United States that few people might be familiar with. Second, it works to show how landscape, wildlife, culture, and history are always interconnected. In his introduction, Jones writes, 'the grass around me, the limber pines, the clams and 80-million-year-old ocean that spawned them, and I were all made from the same stuff, our lives woven together by the same currents of time and place.' Finally, the book works to make a compelling argument that because of human dependence upon and connection to landscape and all lie, regions like the Sandhills deserve consideration and preservation."—Sarah Hulme Hill, Western American Literature