My People the Sioux (Paperback)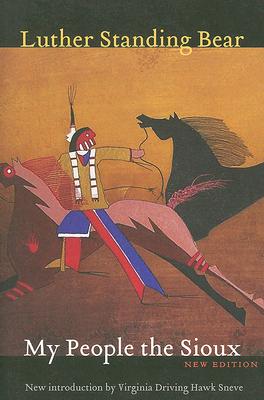 Description
---
When it was first published in 1928, Luther Standing Bear's autobiographical account of his tribe and tribesmen was hailed by Van Wyck Brooks as "one of the most engaging and veracious we have ever had." It remains a landmark in Indian literature, among the first books about Indians written from the Indian point of view by an Indian.
Born in the 1860s, the son of a Lakota chief, Standing Bear was in the first class at Carlisle Indian School, witnessed the Ghost Dance uprising from the Pine Ridge Reservation, toured Europe with Buffalo Bill's Wild West show, and devoted his later years to the Indian rights movement of the 1920s and 1930s.
About the Author
---
Luther Standing Bear is the author of
Stories of the Sioux
,
My Indian Boyhood
, and
Land of the Spotted Eagle
(all available in Bison Books editions).
Winner of the National Humanities Medal, Virginia Driving Hawk Sneve (Lakota Sioux) is the author of twenty books, including Completing the Circle and The Trickster and the Troll, both available in Bison Books editions.