"They Treated Us Just Like Indians": The Worlds of Bennett County, South Dakota (Studies in the Anthropology of North American Indians) (Paperback)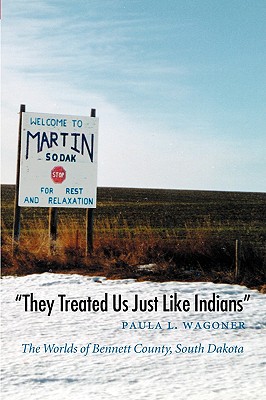 Description
---
On a typical day in Bennett County, South Dakota, farmers and ranchers work their fields and tend animals, merchants order inventory and stock shelves, teachers plan and teach classes, health workers aid the infirm in the county hospital or clinic, and women make quilts and heirlooms for their families or the county fair. Life is usually unhurried, with time for chatting with neighbors and catching up on gossip. But Bennett County is far from typical.
Nearly a century ago the county was carved out of Pine Ridge Reservation and opened to white settlers. Today Bennett County sits awkwardly between the Pine Ridge and Rosebud Sioux Reservations, with nearly one-third of its land classified as "Indian Country" and the rest considered by many Pine Ridge Lakotas to still belong to the reservation. The county is home to a dynamic population, divided by the residents into three groups—"whites," "fullbloods," and "mixedbloods." Tensions between the three groups lurk admid the quiet harmony of Bennett County's everyday rural life and emerge in moments of community crisis.
In a moving account, anthropologist Paula L. Wagoner tells the story of Bennett County, using snapshots of community events and crises, past and present, to reveal the complexity of race relations and identities there. A homecoming weekend at Bennett County High School becomes a flashpoint for controversy because of the differences of meaning ascribed by the county's three identity groups to the school's team name—the Warriors. At another time, the shooting of a Lakota man by a local non-Indian rancher and the volatile wake that follows demonstrate the impulse to racialize disputes that lies just beneath the surface of everyday life.
Yet such very real problems of identity have not completely overwhelmed Bennett County. Wagoner also shows that despite their differences, residents have managed to find common ground as a region of "diverse insiders" who share an economic dependency on federal funds, distrust outsiders, and, above all, deeply love their land.
About the Author
---
Paula L. Wagoner is an assistant professor of anthropology at Juniata College.