The Potawatomis: Keepers of the Fire (Civilization of the American Indian #145) (Paperback)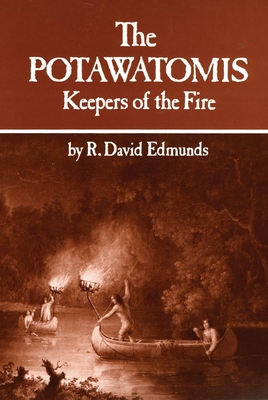 $24.95
Usually Ships in 1-5 Days
Description
---
The Potawatomi Indians were the dominant tribe in the region of Wisconsin, Illinois, Indiana, and southern Michigan during the seventeenth and early eighteenth centuries. Active participants in the fur trade, and close friends with many French fur traders and government leaders, the Potawatomis remained loyal to New France throughout the colonial period, resisting the lure of the inexpensive British trade goods that enticed some of their neighbors into alliances with the British. During the colonial wars Potawatomi warriors journeyed far to the south and east to fight alongside their French allies against Braddock in Pennsylvania and other British forces in New York.
As French fortunes in the Old Northwest declined, the Potawatomis reluctantly shifted their allegiance to the British Crown, fighting against the Americans during the Revolution, during Tecumseh's uprising, and during the War of 1812.
The advancing tide of white settlement in the Potawatomi lands after the wars brought many problems for the tribe. Resisting attempts to convert them into farmers, they took on the life-style of their old friends, the French traders. Raids into western territories by more warlike members of the tribe brought strong military reaction from the United States government and from white settlers in the new territories. Finally, after great pressure by government officials, the Potawatomis were forced to cede their homelands to the United States in exchange for government annuities. Although many of the treaties were fraudulent, government agents forced the tribe to move west of the Mississippi, often with much turmoil and suffering.
This volume, the first scholarly history of the Potawatomis and their influence in the Old Northwest, is an important contribution to American Indian history. Many of the tribe's leaders, long forgotten, such as Main Poc, Siggenauk, Onanghisse, Five Medals, and Billy Caldwell, played key roles in the development of Indian-white relations in the Great Lakes region. The Potawatomi experience also sheds light on the development of later United States policy toward Indians of many other tribes.