Gift Horse: A Lakota Story (Hardcover)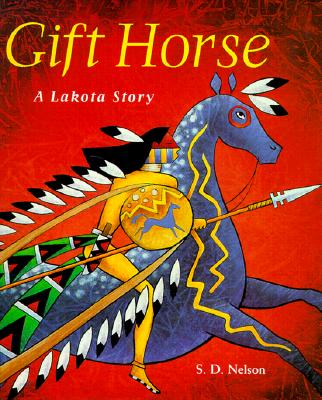 Description
---
A Lakota boy comes of age and finds his courage in this picture book from award-winning author and illustrator S. D. Nelson

When Flying Cloud's father gives him a Gift Horse, marking the beginning of his journey to manhood, Flying Cloud names the horse Storm. The two become inseparable: they spend their days riding across the prairie, hunting deer, and roughhousing with the other boys and their horses. But as Flying Cloud becomes a man, his life takes a serious turn: He must now learn the ways of his people and what it means to be a Lakota warrior. So when enemies of the Lakota steal many of the tribe's horses—including Storm—Flying Cloud must join the rescue party. Will he prove he has the courage to become a true Warrior?

The bold, full-color illustrations bring to life this exciting coming-of-age tale from award-winning creator and member of the Standing Rock Sioux tribe S. D. Nelson and provide a unique look into the lives of the Lakota during the nineteenth century. Backmatter includes a brief summary of the Lakota history.

About the Author
---
S. D. Nelson is a member of the Lakota tribe, also known as the Standing Rock Sioux, in the Dakotas. His books include Black Elk's Vision: A Lakota Story; Buffalo Bird Girl: A Hidatsa Story; and Sitting Bull: Lakota Warrior and Defender of His People. He lives in Flagstaff, Arizona. www.sdnelson.net.