The Star People: A Lakota Story (Hardcover)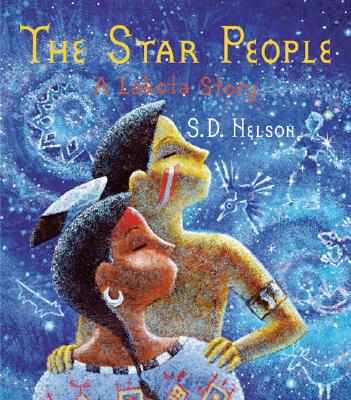 Description
---
"A young Lakota Indian girl narrates the story of how she and her little brother, Young Wolf, survive a prairie fire." —School Library Journal
"A stirring, original story based on Lakota legend . . . The swirling images of the celestial dance beautifully reflect the story's celebration and awe of the natural world." —Booklist

A grandmother's love is forever in this story of remembrance and tradition from S. D. Nelson, award-winning author and member of the Standing Rock Sioux tribe.

Sister Girl and her brother, Young Wolf, wander away from their village and soon find themselves far out in the surrounding prairie. They sit down in the grass and watch the clouds passing above billow to form an eagle, horses, and other creatures.

"We sat in the dry, sweet-smelling grass, watching the clouds drift overhead. Young Wolf pointed and said, 'Sister Girl, that cloud looks like a buffalo's head!' We both laughed with amazement. 'There's an eagle,' I cried!"

Suddenly, animals begin to race past the children on the ground—followed by a wall of fire! Fleeing along with the frightened beasts, Sister Girl and Young Wolf save themselves by tumbling into a shallow stream. The fire leaves behind ash and a barren, forbidding landscape. The children realize that they are hopelessly lost. Night is coming—how will they get home to their parents? And why are the evening stars dancing so?

Drawing upon traditional Lakota ledger book art, S. D. Nelson's illustrations bring to life a memorable new legend about the Star People.
About the Author
---
An enrolled member of the Standing Rock Sioux Tribe in the Dakotas, S. D. Nelson is descended from Norse and American Indian heritage. He is the author and illustrator of numerous award-winning children's books inspired by his Great Plains heritage, including Black Elk's Vision, The Star People, and the middle-grade nonfiction book Crazy Horse and Custer: Born Enemies. His books have received the American Indian Library Association Honor Book Award, the Spur Award from the Western Writers of America, and the American Library Association Notable Book Award. Nelson has lectured at the National Museum of the American Indian/Smithsonian in Washington, DC, and has presented the keynote address for Read North Dakota. The artist's paintings are held in many permanent collections including the National Museum of the American Indian in Washington DC, the National Museum of the Marine Corps in VA, Little Bighorn Battlefield National Monument in MT, the Crazy Horse Monument in SD, and the State Historical Societies of South Dakota, North Dakota, and Minnesota. Combined with the stories he tells Nelson's art reveals the richness and depth of Lakota life. He creates with acrylic paint which he brushes, sponges, splatters, and sprays. His artwork offers a contemporary interpretation of traditional Lakota imagery. Visit: www.sdnelson.net.