Tortured for Christ: 50th Anniversary Edition (Paperback)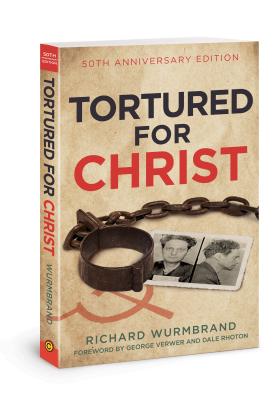 Description
---
Richard Wurmbrand suffered 14 years in underground prison cells, months in solitary confinement, and years of physical torture.
His only crimes were his fervent belief in Jesus Christ and his public witness for that faith. Richard Wurmbrand exposed the persecution of Christians by atheistic Communist governments—his testimony shocked the Western world.
With over 10 million copies in 60 languages, this is an inspiring true story of faith that every Christian should read.
In addition to the classic story, this 50th anniversary edition features:
a foreword by George Verwer and Dale Rhoton, founders of Operation Mobilization
an introduction by Merv Knight, a Wurmbrand historian
an updated epilogue by The Voice of the Martyrs
photographs of Richard and his wife, Sabina
an excerpt of Richard's testimony at a US Senate Subcommittee Hearing
About the Author
---
Pastor Richard Wurmbrand, whose body bore the scars of 14 years of torture and suffering for Christ in a Communist prison, witnessed the indomitable courage and persistent faith of persecuted Christian believers. Following his release from prison, he devoted his life to being a voice for persecuted Christians so others in the body of Christ might serve them and be inspired by their examples of bold faith.