The Readers' Advisory Guide to Horror (Paperback)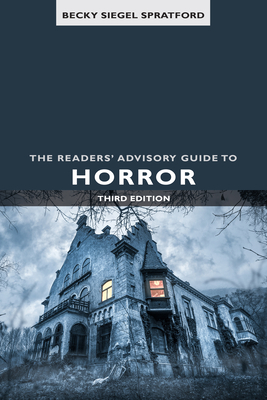 $64.99

Usually Ships in 1-5 Days
Description
---
Like the zombies, ghouls, and vampires which inhabit many of its books, the popularity of horror fiction is unstoppable. Even if you don't happen to be a fan yourself, you won't be "scared" to advise readers on finding their next great fright thanks to the astute guidance provided by horror expert Spratford in her updated guide. This definitive resource for library workers at any level of experience or familiarity with horror fiction
details the state of the genre right now, including its appeal factors and key authors, assisting readers in getting up to speed quickly;
presents ten annotated lists of suggested titles, all published since 2000, each with a short introduction providing historical context;
delves into horror movies, TV shows, podcasts, and other formats; and
offers abundant marketing advice, programming options, and pointers on additional resources.
About the Author
---
Becky Siegel Spratford is a Readers' Advisory Specialist in Illinois specializing in serving patrons ages 13 and up. She trains library staff all over the world on how to match books with readers through the local public library. She runs the critically acclaimed RA training blog RA for All and its evil twin RA for All Horror. She is under contract to provide content for EBSCO's NoveList database and writes reviews for Booklist and a horror review column for Library Journal. She is a proud member of the Horror Writers Association and currently serves as the Association's Secretary and organizer of their annual Librarians' Day. You can follow her on Twitter at @RAforAll. She received the prestigious Richard Laymon President's Award from the Horror Writers Association (HWA) in 2021.
Praise For…
---
"In the decade since the second edition, Spratford (who blogs at RAforAll) has completely rewritten and updated this guide, with particular attention to diverse voices writing about fear, dread, and terror ... Also important to this new edition is its organization, which is structured around the reader's level of comfort with the genre. VERDICT Librarians will appreciate the updated recommendations and accessible organization. Those interested in a more complete history of horror fiction will find within a thoughtful exploration of previously excluded authors and emerging talent."
— Library Journal