Uncertain Harvest: The Future of Food on a Warming Planet (Digestions #2) (Paperback)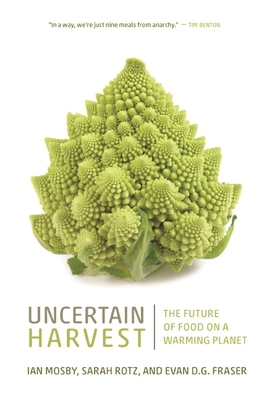 $24.95
Usually Ships in 1-5 Days
Description
---
A menu for an edible future
In a world expected to reach a staggering population of 9 billion by 2050, and with global temperatures rising fast, humanity must fundamentally change the way it grows and consumes food. But can we produce enough food to feed ourselves sustainably for an uncertain future? How will agriculture adapt to a climate change? How will climate change determine what we eat? Will we really be eating bugs?
Uncertain Harvest
questions scientists, chefs, activists, entrepreneurs, farmers, philosophers, and engineers working on the global future of food on how to make a more equitable, safe, sustainable, and plentiful food future. Examining cutting-edge research on the science, culture, and economics of food, the authors present a roadmap for a global food policy, while examining eight foods that could save us: algae, caribou, kale, millet, tuna, crickets, milk, and rice.
About the Author
---
Evan D.G. Fraser is the author of two books about food and food security: Empires of Food: Feast, Famine, and the Rise and Fall of Civilizations (Simon and Schuster), shortlisted for the James Beard Food Literature Award; and the graphic novel, #FoodCrisis. Currently he is the director of the Arrell Food Institute and holds the Canada Research Chair in Global Food Security. He is a fellow of the Pierre Elliot Trudeau Foundation, a fellow of the Royal Canadian Geography Society, and a member of the Royal Society of Canada's College of New Scholars, Artists and Scientists. Ian Mosby is an award-winning historian of food and nutrition who was, alongside Evan Fraser, named one of the "53 Most Influential People in Canadian Food" by the Globe and Mail in 2016. His book Food Will Win the War: The Politics, Culture, and Science of Food on Canada's Home Front was shortlisted for the 2016 Canada Prize and won the Canadian Historical Association's 2015 Book Prize. Sarah Rotz is a postdoctoral fellow in the Department of Geography at Queens University as part of the CIHR-funded 'A SHARED Future' project. As a settler scholar-activist, Sarah's work focuses on political ecologies of land and food systems, settler colonial patriarchy, and concepts of sovereignty and justice related to food, water, and energy, and the ecosystems that support them.