Conversational Sign Language II: An Intermediate Advanced Manual (Paperback)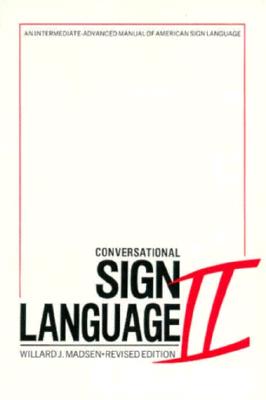 $24.00

PLEASE EMAIL OR CALL FOR AVAILABILITY
Description
---
This book presents English words and their American Sign Language (ASL) equivalents in 63 lessons. Part one covers 750 words and their signs. Part two deals with the interpretation of 220 English idioms (which have over 300 usages in ASL). Part three presents over 300 ASL idioms and colloquialisms prevalent in informal conversations.

       Conversational Sign Language II is excellent for the classroom or for self-instructional use and includes a separate index for each part as well as a bibliography. Each of the 63 lessons in the text is illustrated and has follow-up exercises. A practice test is included after every third lesson.
About the Author
---
Willard J. Madsen is Professor Emeritus of Sign Language at Gallaudet University.