The Irish Cowboy: A love lost. A family found. A life saved. (Large Print / Paperback)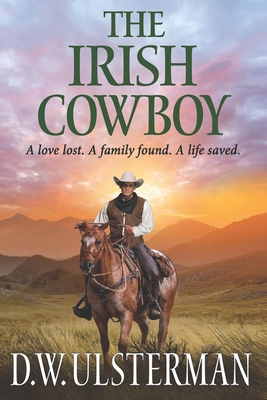 $14.75

Usually Ships in 1-5 Days
Description
---
As featured in USA Today,
The Irish Cowboy
is the story all of America is now talking about:
"Had this given to me by my sister who said I MUST READ IT. She was right. I bawled my eyes out, laughed, cheered, and in the end, I was so grateful for the journey the story took me on. Then my husband read it and he loved it too Would make an amazing movie. Hollywood, are you listening? You should be." -Jennifer Upton

________
Hap Wilkes made a choice to sacrifice his own happiness in order to honor a vow. Since then he has lived a loveless life caring for the few animals that remain on his isolated Montana ranch while waiting each year for the return of the wild horses that make his land their summer home.
Haunted by memories of what could have been while fighting the constant onslaught of old age and regret, Hap suddenly receives two unexpected visits. One of them intends to take his land by force. The other hopes to give him another chance to know real love.
What happens next is a journey of loss, heartache, hope and redemption, as masterfully told by bestelling author, D.W. Ulsterman.
Find out for yourself why so many have declared The Irish Cowboy to be an instant classic and one of the best reads of the year:
________
"The way the story is written is absolutely riveting. The author moves from character to character, setting to setting in a seamless manner. It brings smiles, sadness, and all emotions in between. I could not put it down." -John / Amazon Review

"If you read just one book this year you have to make it The Irish Cowboy. It's a love story with genuine heart, wisdom, and timeless appeal that is so deserving of its many accolades. Kudos to its author, D.W. Ulsterman. This kind of story is sadly rare this day and age because it's one that has something important to say to young and old alike." -Dina Garcia

"The Irish Cowboy is one of the best love stories and family dramas I've ever read and that's saying something because I read a LOT. Beautifully told with a perfect ending. I loved it, my book club loved it, and I know you'll love it as well. I give it my highest recommendation." -Kali O'Rourke

"Truth be told I'm not much of a reader but after so many people recommended The Irish Cowboy to me I finally decided to give it a go. I know regret. I've been there. This book nails that situation in a way that put me in the story right along with Hap and Shirley.It really is that good. I've never left a review for a book until now but this one required that I do. I might just read it again. Actually, I know I will and you should too." -Harmony Dawson
"Have the tissue close by for this one. You're going to need it. What an amazing story with an ending that was perfect in every way. God bless The Irish Cowboy." -Maura Simms
The Irish Cowboy
is a USA Today 'Happily Ever After' selection.