Returning to the Lakota Way: Old Values to Save a Modern World (Hardcover)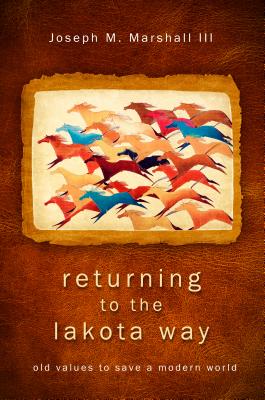 $24.95
Email or call for price.
Description
---
In Returning to the Lakota Way, prolific author Joseph Marshall presents the follow-up to his highly regarded book The Lakota Way. Using beautiful storytelling to relay traditional tales passed down through the generations, Marshall once again takes the reader on a journey of growth and inspiration. Each chapter presents one story that exemplifies a quality or way of life that will encourage in readers a sense of inner peace amidst the busyness of modern life.
From the hunting adventures of the raven and the wolf, we see the importance of tolerance; the lessons of the grasshopper impart the wisdom of patience; and the experiences of a young man named Walks Alone teach us about silence and turning within. Speaking to these and other universal qualities, such as faith and selflessness, Marshall gives readers insight into their own lives using tales from the past interspersed with stories from his own life growing up on the Rosebud Sioux Indian Reservation in South Dakota. In him, we see a clear example of the wisdom of history enhancing the state of the current world. This magnificent work will give readers an insider's view of the Lakota people while providing universal lessons to enrich life.
About the Author
---
Joseph Marshall III was born and raised on the Rosebud Sioux Indian Reservation and is an enrolled member of the Sicangu Lakota (Rosebud Sioux) tribe. Because he was raised in a traditional Lakota household by his maternal grandparents, his first language is Lakota. In that environment he also learned the ancient tradition of oral storytelling. Marshall is an author with nine nonfiction works, three novels, a collection of short stories and essays, and several screenplays to his credit. He is also a speaker and lecturer, having appeared throughout the United States and in countries such as France, Sweden, and Siberia.
Marshall has also appeared in television documentaries, served as technical advisor for movies, and served as the narrator for the six-part mini-series Into the West, as well as playing the on-screen role of "Loved by the Buffalo," a Lakota medicine man.
Website: http://www.josephmarshall.com
Praise For…
---
"This book is certain to become a classic in Native American literature as well as a guide for anyone who seeks larger spiritual truths. Marshall, a Sicangu elder, is well on his way to becoming an elder for all of America."
—Roger Welsch, author of Embracing Fry Bread: Confessions of a Wannabe
"In this fine collection of stories, Marshall eloquently delivers some hard truths in a soft package. His message for today's world: we will surely sink beneath the floodwaters of tomorrow if we do not embrace the wisdom of yesterday."
—Joseph Starita, author of "I Am a Man": Chief Standing Bear's Journey for Justice
"Joseph Marshall is more than a great storyteller. He's also a very wise man. In these evocative vignettes from Lakota legend and rich personal experience, he reminds his readers that even in the overstimulated, overstressed 21st century, the greatest peace is to be found in simple, universal values and quiet contemplation."
—Kirk Ellis, writer/producer of TNT's Into the West and HBO's John Adams
"Through the beautiful teachings of his Lakota elders Joseph Marshall shares with the reader many of life's truths. He reminds us of the simplicity and the sanctity of life. There are no new magical answers or solutions to life's mysteries in this collection, but there are certainly powerful lessons that one can choose to embrace. When you read this book you will be motivated to rekindle the person you were when you began this journey."
—Judi M. gaiashkibos, an enrolled member of the Ponca Tribe of Nebraska and the executive director of the Nebraska Commission on Indian Affairs