Big Bad Ironclad! (Nathan Hale's Hazardous Tales #2): A Civil War Tale (Hardcover)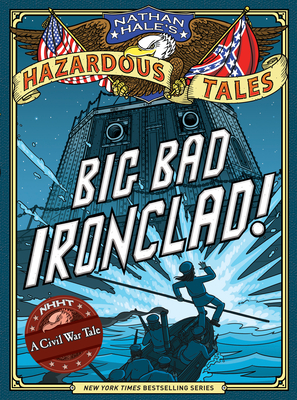 $14.99

Usually Ships in 1-5 Days
Description
---
Uncover the story of the Civil War's ironclad warships with the New York Times bestselling graphic novel series!

Ships are great for transport and sieges, but they tend to start leaking when cannons are fi red at them. But what if the ship is covered with iron? Assuming it doesn't sink to the bottom of the ocean, wouldn't it be stronger and better than any other ship out there? This is the question that begins a race between the North and the South to come up with the biggest, best ironclad warships.

Nathan Hale's Hazardous Tales are graphic novels that tell the thrilling, shocking, gruesome, and TRUE stories of American history. Read them all—if you dare!

Get Big Bad Ironclad! and two other Hazardous Tales in the Nathan Hale's Hazardous Tales Second 3-Book Boxed Set, available now!

About the Author
---
Nathan Hale is the #1 New York Times bestselling author and illustrator of the Nathan Hale's Hazardous Tales series, which includes One Dead Spy; Donner Dinner Party; Treaties, Trenches, Mud and Blood; Big Bad Ironclad!; and The Underground Abductor, one of which earned a place on the Texas Bluebonnet Award Master List. He also illustrated the graphic novel Rapunzel's Revenge, which was a TODAY show "Al's Book Club for Kids" selection, an ALA-ALSC Notable Children's Book, and a YALSA Great Graphic Novel for Teens, as well as the recipient of three starred reviews. Nathan lives in Provo, Utah. www.hazardoustales.com.
Praise For…
---
"Livelier than the typical history textbook but sillier than the many outstanding works on the Civil War available for young readers, this will appeal to both history buffs and graphic-novel enthusiasts."
— Kirkus Reviews

"Readers interested in American history will enjoy these graphic novels... Comic panels of varying sizes enhance the real-life events and support the stories' over-the-top humor... the writing is accessible and entertaining; author Hale's style gives readers an insider-y, you-are-there-type scoop."
— The Horn Book