The Reproach of Hunger: Food, Justice, and Money in the Twenty-First Century (Hardcover)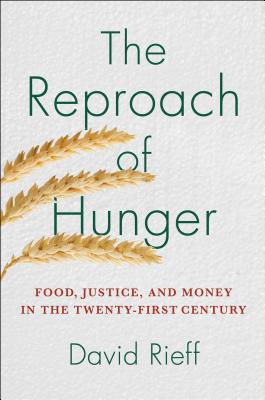 Description
---
In a groundbreaking book, based on six years of on the ground reporting, expert David Rieff offers a masterly review about whether ending extreme poverty and widespread hunger is within our reach as increasingly promised.

Can we provide enough food for 9 billion (2 billion more than today) in 2050, especially the bottom poorest in the Global South? Some of the most brilliant scientists, world politicians, and aid and development persons forecast an end to the crisis of massive malnutrition in the next decades.

However, food rights campaigners (many associated with green parties in both the rich and poor world) and traditional farming advocates reject the intervention of technology, biotech solutions, and agribusiness. Many economists predict that with the right policies, poverty in Africa can end in twenty years. "Philanthrocapitalists" Bill Gates and Warren Buffett spend billions on technology to "solve" the problem, relying on technology.

Rieff, who has been studying and reporting on humanitarian aid and development for thirty years, puts the claims of both sides under a microscope and asks if any one of these efforts will solve the crisis. He cites climate change, unstable governments that receive aid, the cozy relationship between the philanthropic sector and agricultural giants like Monsanto and Syngenta, that are often glossed over.

The Reproach of Hunger is the only book to look at this debate refusing to take the cherished claims of either side at face value. Rieff answers a careful "yes" to this crucial challenge to humanity's future. The answer to the central question is yes, if we don't confuse our hopes with realities and good intensions with capacities.
About the Author
---
David Rieff is the author of eight previous books, including Swimming in a Sea of Death, At the Point of a Gun: Democratic Dreams and Armed Intervention; A Bed for the Night: Humanitarianism in Crisis; and Slaughterhouse: Bosnia and the Failure of the West. He lives in New York City.
Praise For…
---
"[Rieff's] unflinching analysis is an invaluable corrective to the happy-clappy unreality of much of our current thinking on hunger. A forceful critique of the ideology that has captured many transnational institutions in recent decades, The Reproach of Hunger is a substantial work of political thought."
— John Gray

"As refugee crises fill the news, David Rieff reminds that hunger is a war not won. Rieff, a veteran thinker on development issues, spent six years researching the nexus of population, food commodification and persistent poverty for this critical analysis. Scathing about the alarmist or over-optimistic pronouncements of development officials, agribusiness multinationals and philanthropic nabobs, he notes that any issue involving billions of humans cannot be neatly engineered. Thoughtful, trenchant and bracingly sceptical."

"An erudite and well-researched analysis of the problem of world hunger and the challenges associated with international development. . . . [the book] exposes the contradictions of the philanthrocapitalist dogma currently in vogue and challenges readers to reexamine the causes of growing development inequality among countries."

"Hunger, [Rieff] writes, is a political problem, and fighting it means rejecting the fashionable consensus that only the private sector can act efficiently."

"A stinging indictment of modern philanthropy and development theory's capacity to resolve the pressing issues of poverty and hunger. In the wake of so many books rehashing the same arguments about how to help the developing world, readers will be grateful for a different (and impeccably researched) perspective. This is a stellar addition to the canon of development policy literature."

"Will we be able to feed the nine billion people expected to populate the world by 2050? Scientists, politicians, and economists, backed by abundantly wealthy philanthropists like Bill Gates, say yes. Advocates of food rights and traditional farming counter that the biotech and agribusiness means suggested are deeply flawed. With 30 years' worth of studying humanitarian aid and development behind him, Rieff listens to both sides and comes out with a qualified yes."

"A realistic examination of the world's ability to solve the global food crisis."

Praise for A Bed for the Night: Humanitarianism in Crisis

"A withering, thought-provoking study."—The Wall Street Journal

"Hardheaded, sophisticated, and urgent."—The New York Times Book Review


Praise for Slaughterhouse: Bosnia and the Failure of the West

"Rieff writes with a knowledge so thorough, an intelligence so keen, a passion so scalding, and a morality so vigorous, that one cannot come away from reading this without despair for mankind."—The Advocate

"It is David Rieff's shocking conclusion . . . that we have reached the point where to bear witness is the remaining alternative to losing hope in the face of unchecked crimes against humanity."—The Baltimore Sun


Praise for At the Point of a Gun: Democratic Dreams and Armed Intervention

"Rieff's lucid, fair-minded, and provocative essays should be mandatory reading for anybody who is trying to make sense out of our ever-more-troubling, post-September 11 world."—San Francisco Chronicle

"Rejecting equally utopian humanitarianism and neoconservative ideology, Rieff's collection of essays provides a compelling analysis of when military intervention is necessary and when it is doomed to fail."—George Soros
— * * *