The Way of Baseball: Finding Stillness at 95 mph (Paperback)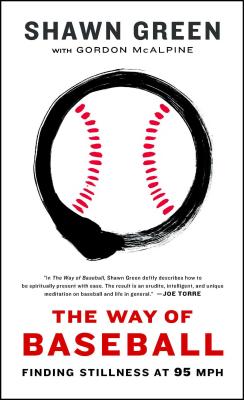 $17.00

Usually Ships in 1-5 Days
Description
---
Two-time All Star Shawn Green shows how the surprising lessons the game has taught him transcend baseball and compose a life well lived.

Shawn Green's career statistics can be found on the backs of baseball cards in shoeboxes across America: 328 home runs, 1,071 RBIs, .282 career batting average, All-Star, Gold Glove, Silver Slugger...but numbers tell only part of the story.

In the tradition of Phil Jackson's Sacred Hoops, Shawn Green illustrates the spiritual practices that guided his career and enabled him to "bring stillness into the flow of life." In The Way of Baseball, he shares the secrets to remaining focused both on and off the field, shedding light on a signature approach to living by using his remarkable baseball experiences to exemplify how one can find full awareness, presence, and, ultimately, fulfillment in any endeavor.
About the Author
---
Shawn Green's career in Major League Baseball spanned fifteen years with four teams. He finished in the top ten of league MVP voting three times. Visit him at ShawnGreen.com.
Gordon McAlpine is the author of three acclaimed novels: Joy in Mudville, The Persistence of Memory, and Mystery Box.
Praise For…
---
"The greatest Jewish baseball player since Sandy Koufax fuses sports autobiography with Zen and the Art of Motorcycle Maintenance." — Kirkus Reviews

"A very unusual and satisfying chronicle of one man's approach to his craft and to life." — Booklist

"Green swears that his Eastern outlook and honed calm…allowed him, at his best, to feel "that the pitcher was now my partner in hitting rather than my opponent"; and, frankly it is difficult to argue with the man who, at his best, set the record for total bases hit in a game…Those who do not share Green's earnestness…may nonetheless find it fruitful to suspend their unbelief and read Green's slim book…for its technical discussions of hitting and its satisfying three-act tale of early success, midcareer setback and ultimate triumph." —New York Times Book Review

"When it comes to writing about baseball, he's an all-star…..A thoughtful and introspective look at the game." — New York Post

"Green's book is a quick read…but what could be a collection of generalities is instead a detailed look inside the mind of a former All-Star." — The New York Times