Ghost Hawk (Paperback)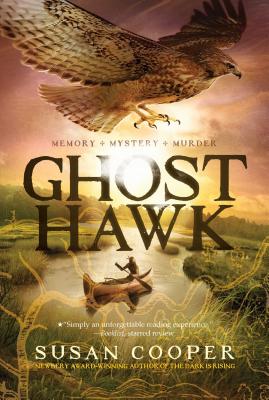 Description
---
A friendship between a young Native American and a colonial New England settler endangers them both in this "simply unforgettable" (Booklist, starred review) adventure story from Newbery Medalist Susan Cooper.

On the winter day Little Hawk is sent into the woods alone, he can take only a bow and arrows, his handcrafted tomahawk, and the amazing metal knife his father traded for with the new white settlers. If Little Hawk survives three moons by himself, he will be a man.

John Wakely is only ten when his father dies, but he has already experienced the warmth and friendship of the nearby tribes. Yet his fellow colonists aren't as accepting of the native people. When he is apprenticed to a barrel-maker, John sees how quickly the relationships between settlers and natives are deteriorating. His friendship with Little Hawk will put both boys in grave danger.

The intertwining stories of Little Hawk and John Wakely are a fascinating tale of friendship and an eye-opening look at the history of our nation. Newbery Medalist Susan Cooper also includes a timeline and an author's note that discusses the historical context of this important and moving novel.
About the Author
---
Susan Cooper is one of our foremost children's authors; her classic five-book fantasy sequence The Dark Is Rising has sold millions of copies worldwide. Her many books have won the Newbery Medal, a Newbery Honor, and the Boston Globe-Horn Book Award, and been shortlisted five times for the Carnegie Medal. She combines fantasy with history in Victory (a Washington Post Top Ten for Children novel), King of Shadows and Ghost Hawk, and her magical The Boggart and the Monster, second in a trilogy, won the Scottish Arts Council's Children's Book Award. Susan Cooper lives on a saltmarsh island in Massachusetts, and you can visit her online at TheLostLand.com.
Praise For…
---
"Ghost Hawk is the work of a writer with great imaginative power and long-practiced narrative skill. I was swept up in the story, shocked, moved, and enthralled - and completely convinced by the historical background. I haven't read anything better for a long time."
— Philip Pullman, author of The Golden Compass

"Susan Cooper has asked the ghosts of our shared history to sing. And when she asks, they always do."
— William Alexander, author of the National Book Award winner Goblin Secrets

"Ghost Hawk is a treasure.... Beautifully written, vivid with its manifest love for the land, it is a story of suffering and survival, both tragic and heroic."
— Karen Cushman, author of the Newbery Medal winner The Midwife's Apprentice

*"Well-researched and elegant historical fantasy... Cooper demonstrates, as Little Hawk says, "Change is made by the voice of one person at a time."
— Publishers Weekly, starred review

* "Cooper has written a richly plotted, lyrical, and near-epic novel...this is simply an unforgettable reading experience."
— Booklist, starred review

"[A] sensitive portrayal of an unusual friendship."
— Kirkus Reviews

"Cooper here demonstrates that there's plenty of magic left in her pen, delivering a powerful and memorable novel."
— The Horn Book

"A beautifully written story."
— School Library Journal

"Rich period detail makes for an immersive experience."
— BCCB