Iyeska (Paperback)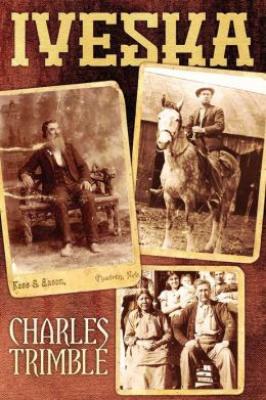 $16.95

PLEASE EMAIL OR CALL FOR AVAILABILITY
Staff Reviews
---
Charles Trimble lived a transition period of Lakota history, times of change so massive that a personal narrative is the outsiders only access.  A compilation of memoir, philosophy and history,  Mr. Trimble's book  is a gem.  It offers a view of time and place that will not be repeated with writing that is concise, personal and full of humor.  This is an important book by a modest and accomplished man.  We are lucky that from Wanblee, South Dakota, Charles Trimble became a man of the larger world. 
— From
Lakota Biography
Description
---
Any serious student of Native American journalism, diplomacy, and human rights will at some time in their studies come across the name Chuck Trimble. Chuck is one among only a few dozen Native intellectuals and visionaries who served as camp crier, strategist and journalist during one of the most turbulent, dangerous and focused times of contemporary Native affairs. How close we have, as a people, come to the brink of annihilation only a few people have seen. Chuck is one of them. And, he faced it with all the courage, humor and focused strength of conviction that the times required.

Readers of this book will be treated to a way of thinking that is all Chuck, all NDN. Be thankful for that, because many of our best people have passed without a word written by their hand.
Ray Cook, Opinion/Editorial Editor, Indian Country Today Media Network

When Chuck Trimble writes about major events of Indian history of the past 50 years or so, he tells what happened, either because he was there and can give a compelling account, or because he has done his research. The best part of this book is Chuck's moral vision. Young people need to read it, to understand that we are responsible for ourselves and that we have great strengths as peoples on which we can rely; and they need to read an account of how we got to today.
Sam Deloria

Just a few decades ago many tribes faced the real possibility of disappearing forever. It was a battle that was won because of brilliant leaders like Lucy Covington. Then, after that challenge, a whole slate of new institutions were improved and created in Indian Country, the very ones we see today. Chuck Trimble's account of this history is important because it provides the missing context. Through his experience and through his precise observations, Trimble takes us from his boarding school experience to Congress with many surprises along the way. It's a story young people should know.
Mark Trahant

Charles "Chuck" Trimble was born and reared on the Pine Ridge Indian Reservation and is a member of the Oglala Lakota Nation. He was principal founder of the American Indian Press Association in 1969, and served as Executive Director of the National Congress of American Indians from 1972 to 1978.