Rustler on the Rosebud: The Legend of Jack Sully (Paperback)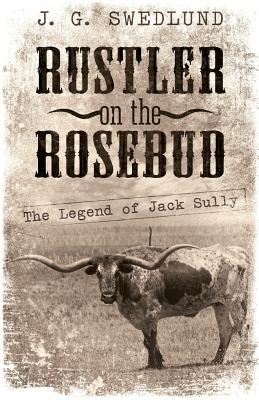 Staff Reviews
---
This is novelized history.  The history is consistent with what is known of rustler Jack Sully and the novel part makes it exceptionally readable.  The setting ranges across our area from the Badlands and Fort Randall, South Dakota to Valentine and Springview, Nebraska.  Readers with an interest in our early history and of the cattle baron period of the West will find this a compelling  and welcome addition to their library. 
— Duane
Description
---
The author was born and raised on the Rosebud prairie South Dakota, educated at the University of South Dakota and The George Washington University. Lieutenant Colonel(R) in the United States Army, he served two years in Viet Nam, posts in the US, and 10 years in Germany.
This work was inspired by a story from his father, and a maggot, as John Fowles would have termed it, of a man on horseback, nearing the crest of a hill which would have ensured escape; by the betrayal of a friend, and the twilight of the cattlemen gods who ruled the west river ranges of Dakota.