His Name Was Jack: A Sandhills Cowboy (Paperback)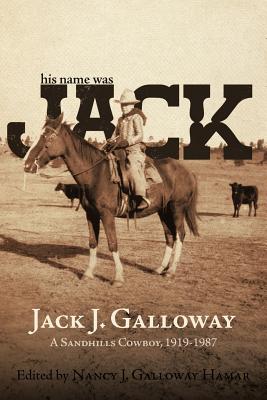 $17.95

Usually Ships in 1-5 Days
Description
---
Jack Galloway died in 1987, a year after his mother and two years after his wife, Alice. When Alice, my mother, died in 1985, he wasn't sure what he'd do without her. I said, "Write. Write a book." Of course, that suggestion was dismissed when he said he was no writer.
In 2005 I wrote about an impending book in my "Up Close" column for a local newspaper. I told my readers my dad was a writer. He had written me letters through the years because I lived 500 miles away from him and Mom. I knew he could write. So I told him to write about each of the horses in his life. I rattled a few off, "Write about Patty Ann, Old Pal, Eagle, Darky and Spike or Harding," I said. "Then write about the people you've known. There was Old Poke Kidder and Floyd Jones, to name a couple."
There are only three people left on earth who can read his writing. That's my daughter, my sister and me. We hashed around getting the stories typed, organized and printed. My sister's boys and my children knew Granddad Jack. The great-grandchildren did not, but maybe these stories will give them an inkling of the cowboy he was.
Fast forward to today and you are holding a collection of Jack Galloway's stories and poems in your hand. Putting this together is a tribute to the man who was one of the last of his generation of Sandhills cowboys. He was a personable man who could ride a horse, rope, sing, dance and, unknown to him, he could write. Enjoy his stories.