Ring, Ring, Click, Clack Sounds from School (Hardcover)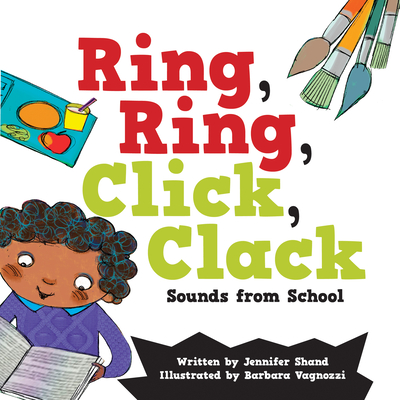 Description
---
Did you hear that?

Listen for students, computer keyboards, art class projects, lunchtime sounds, and so much more in this book about the sounds you can hear at school

Transition young readers from board books to picture books with tear resistant pages. Big, bold text and an engaging question-and-answer format provide a fun and interactive story time experience.

About the Turn Without Tearing Series: The Turn Without Tearing collection from Flowerpot Press encourages readers to mimic the sounds that can be heard in a variety of places including the farm, jungle, city, and sky. Each book features durable stone paper to help little ones avoid ripped pages with the goal of inspiring confidence in reading picture books.

Read & Sing: Search Flowerpot Press Animations on YouTube or follow the link (https: //www.youtube.com/channel/UC4mG4g5nm2z6ucT3Ulbon_w) to enjoy a Read & Sing version of your favorite Turn Without Tearing songs. Follow along with your book as you watch the characters come to life and sing along to the song recorded by Billy Squirrel.
About the Author
---
Jennifer Shand lives in Virginia with her husband Ryan. While growing up in the Shenandoah Valley of the Blue Ridge Mountains, Jennifer voraciously read fantasy and adventure stories and had fun taking adventures of her own. Jennifer enjoys reading; going for walks, hikes, and bike rides; and traveling; but most of all she loves to write.Barbara Vagnozzi was born by the sea, on the Ligurian Riviera, and now lives in an ancient house on the hills just outside Bologna in Italy, with her English husband, two boys, and two happy Labradors. As far as she remembers she's always had a pencil in her hands or behind her right ear. After a degree in Modern History and a specialization in Medieval Archeology she decided to become a professional illustrator. She's never stopped being enthusiastic about her job, and every new project brings the opportunity for further experimentation and fun.