Nourishing Waters, Comforting Sky: Thirty-Five Years at a Sandhills Oasis (Paperback)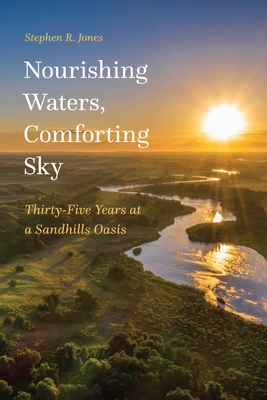 Description
---
2023 Nebraska Book Award

In the Nebraska Sandhills, ranchers on horseback and in pickup trucks share the range with pronghorn antelope, burrowing owls, and long-billed curlews. The native grasses grow greener as the cattle grow fatter. Throughout the region, river otters and mink swim in streams nourished by springs bubbling up from the High Plains (Ogallala) aquifer. Over years of close observation, Stephen R. Jones has gotten to know the Nebraska Sandhills—the twenty-thousand-square-mile expanse of stunning prairie and thriving wetlands. He has felt the warm breath of a white-tailed doe guarding her spotted fawn, learned to communicate with a family of long-eared owls, and developed an improbable hiking relationship with a wild turkey. He has documented a breeding bird population that is growing more diverse and witnessed the long-awaited return of nesting trumpeter swans.

These personal stories, accompanied by words of insight from Native American leaders, Sandhills ranchers, and grassland ecologists, help us envision a quiet relationship with the natural world.
About the Author
---
Stephen R. Jones is an environmental consultant and breeding bird ecologist in Boulder, Colorado. He is the author of The Last Prairie: A Sandhills Journal (Bison Books, 2006) and the leading coauthor of the 2004 Peterson Field Guide Series book, A Field Guide to the North American Prairie.
 
Praise For…
---
"Stephen Jones' personal experiences in the Nebraska Sandhills, one of North America's most enchanting environments, as well as his expression of what those experiences mean to him, have produced a remarkable book."—John Janovy, Jr., Nebraska History

"In the tradition of Aldo Leopold, Henry Thoreau, and Gary Snyder comes Stephen R. Jones; in place of Wisconsin or Walden comes eastern Nebraska. A culmination of almost four decades of visits and observations in the Nebraska Sandhills, Nourishing Waters, Comforting Sky displays Jones's mastery and love of both birds and prairie."—Ande Peersen, H-Environment

"If you want to experience what poet Wendell Berry calls 'the peace of wild things,' read Nourishing Waters, Comforting Sky. Stephen Jones lends us his naturalist's eye and compassionate sensibility . . . to bring us intimately close to this natural treasure of subtle and stunning beauty."—Chris Hoffman, author of The Hoop and the Tree

"Nourishing Waters, Comforting Sky stands brilliantly at the confluence of science, history, and poetry. Only Stephen Jones, the Thoreau of the Nebraska Sandhills, could so powerfully reveal the mystery of one of the last remaining wild places."—Christina Nealson, author of Living on the Spine and Drive Me Wild

"This is almost spiritual reading. Jones has an intimate knowledge of the Sandhills, and he combines that beautifully with reflections on the human experience. . . . Jones writes with grace, passion, and love for the world."—John J. O'Keefe, professor of theology and journalism at Creighton University and producer of the documentary film Waves in the Sandhills

"Stephen Jones offers a very personal expression of the intimate relationship he has honed with the Sandhills, camping there solo for more than thirty-five years. Jones shares his connection to this vast oasis through his observation and understanding of natural history, spiritual love of nature, and Native American folklore. . . . Eloquent."—Ann Marie Odasz, a botanical consultant and a retired professor of botany