Camping and Woodcraft: A Handbook for Vacation Campers and Travelers in the Woods (Paperback)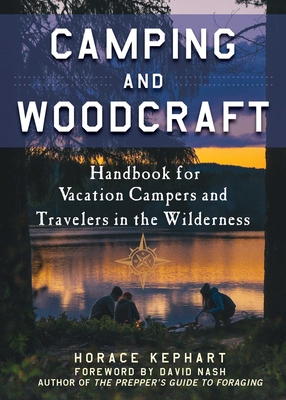 $10.99

Usually Ships in 1-5 Days
Description
---
Originally published in 1906, Horace Kephart's Camping and Woodcraft: A Handbook for Vacation Campers and Travelers in the Woods stands more than a century later as a classic in outdoors writing. Praised byField & Stream as "an encyclopedia of living in the open," it provides expertly detailed answers to hundreds of practical problems that arise on every outing in the great outdoors. Within Camping and Woodcraft, you'll find tips on: •Catching and cooking game with minimal effort
•Practical provisions to bring
•Navigating unfamiliar trails and terrains
•Setting up camp
•Useful woodsmanship and marksmanship skills to learn
•And dozens more topics
Delivering timeless instructional wisdom, Camping and Woodcraft belongs on the shelf and in the backpack of every camper, hiker, and outdoor aficionado.
About the Author
---
David Nash has been in the firearms industry his entire life. After his service in the US Marines, he began work with the Tennessee Department of Correction where he gained certification as both an NRA instructor and agency firearm instructor. He is currently an NRA training counselor and works as a correctional academy instructor. Nash lives in middle Tennessee with his wife Genny, his young son William Tell, and a pretty smart dog.