The Encyclopedia of Country Living, 40th Anniversary Edition: The Original Manual for Living off the Land & Doing It Yourself (Paperback)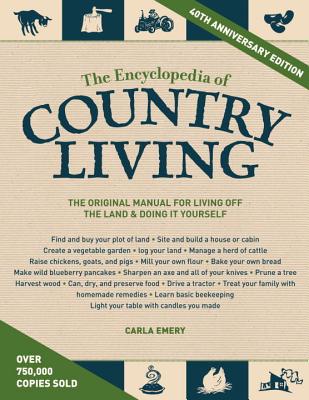 $32.50
Email or call for price.
Description
---
From craft culture to survivalists, preppers, homesteaders, urban farmers, and everyone in between there is a desire for a simpler way of life—a healthier, greener, more self-sustaining and holistic approach to modern life. 
 
The knowledge you need to survive and thrive off the grid is at your fingertips in The Encyclopedia of Country Living, the best-selling resource for the homesteading movement. With its origins in the back-to-the-land effort of the late 1960s, Carla Emery's landmark book has grown into a comprehensive guide to building your sustainable country escape haven, while lowering your carbon footprint in the process. 
 
The 40th anniversary edition offers up-to-date and detailed information on the fundamentals of topics like homegrown food; raising chickens, goats, and pigs; beekeeping; food preservation; mail-order supply sourcing; foraging; and much, much more (even how to deliver a baby)—everything you need to lead a self-sufficient lifestyle in the 21st century. 
 
Basic, thorough, and reliable, this book deserves a place in urban and rural homes alike.

Table of Contents

1 Oddments
2 Introduction to Plants
3 Grasses, Grains & Canes
4 Garden Vegetables
5 Herbs & Flavorings
6 Tree, Vine, Bush & Bramble
7 Food Preservation
8 Introduction to Animals
9 Poultry
10 Goats, Cows & Home Dairying
11 Bee, Rabbit, Sheep & Pig
12 Appendix
About the Author
---
Carla Emery lived on a farm in Idaho for more than thirty years as a wife, mother of seven, home-schooler, goat-keeper, garden-grower, writer, and country-living instructor. She wrote and self-published the first editions of The Encyclopedia of Country Living during the early 1970s and also ran her "School of Country Living." Carla sold nearly 90,000 copies of her self-published editions, traveling the country to promote it and appearing on such shows as The Mike Douglas Show, The Tonight Show with Johnny Carson, The Phil Donahue Show, and Good Morning America, where she demonstrated country-living skills such as goat-milking, bread-making, and butter-churning.

When Sasquatch Books published the 9th Edition of Encyclopedia in 1994, Carla continued to travel the country promoting and selling the book, and teaching the timeless skills of country living. Carla cultivated a large and loyal following across the country. Carla passed away in 2005.
Praise For…
---
"For the suburbanite with just enough space for a little garden to the die-hard homesteaders and everyone in between, The Encyclopedia of Country Living makes for both fascinating reading and a truly essential reference source. You won't find a more complete source of step-by-step information about growing, processing, cooking and preserving every kind of food—from the garden, the orchard, the field or the barnyard!"
Rodale Book Club

"If you're dreaming about moving "back to the land" someday, or if you're already there and want to live more self-sufficiently (wherever you may be) you'll want a copy of ... The Encyclopedia of Country Living."
Organic Gardening

"This book is a monument to the coevolution of a person and an idea. As folk literature. . . this book should be shelved in your collection between the Foxfire books and Alicia Bay Lau­rel's Living on Earth."
Whole Earth catalog

 "Urbanites will find the recipes and resources list. . . useful, the trivia interesting. . . and Emery's personal reflections. . . com­pelling. Even readers with no plans to raise sheep, sell home­made cheese or plant millet will find this a fascinating cultural document."
Publishers Weekly

"Packed with old wisdom as well as up-to-date websites and mail-order sources to make country living easier."
Country Almanac

"Although mainly a modern individualist's resource on how to grow and prepare food, this work is much more. As one aston­ished browser acclaimed, 'Is there anything this book doesn't tell you how to do?'"
Library Journal

"If you're thinking about ditching the city and reconnecting with a simpler, more direct way of life, living the self-sufficient lifestyle full-bore, or just living more directly and simply where you are right now, The Encyclopedia covers a wealth of information to keep you on target."
Lehman's Country Living

"If I could only have one comprehensive how-to book on self-reliant living, this would be it."
Backwoods Home Magazine

"The Encyclopedia of Country Living by Carla Emery is one of my favorite finds. It is a guide to all things country and, for those of us that don't get down on the farm as often as we would like to, it is a mini vacation from the asphalt jungle. ...a warm and inviting trip to your Grandmother's kitchen table and that, alone, is reason enough to pick up a copy for your own library."
The Jefferson County Post

"While it is impossible for one book to have everything you need, 'The Encyclopedia of Country Living' does an exceptional job of giving you the most bang for your buck when it comes to needing a single resource where you are likely to find the answer to your country living questions."
Outdoor Self Reliance

"Practical advice, invaluable information, and collected wis­dom for folks and farmers in the country, city, and anywhere in between."
Territorial Seed catalog