Birds of Prey of the Midwest (Bird Identification Guides) (Paperback)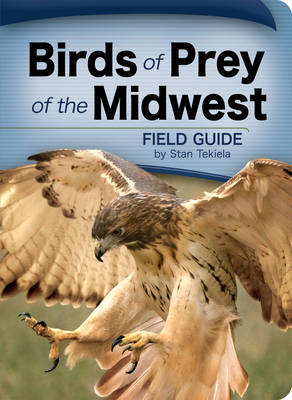 Description
---
Get Started Identifying Raptors of the Midwest
Learn to identify raptors, and make bird-watching even more enjoyable. With Stan Tekiela's famous field guide, bird identification is simple and informative. This book features 34 species--including every species of raptor found in the Midwest. For ease of use, the guide is organized by group: hawks, eagles, falcons, kites, vultures, and owls. So when you see a bird of prey, you can determine its group by common visual characteristics. Then turn to the corresponding section to find out what it is
Book Features:

Only Midwestern birds of prey: every raptor species found in the Midwest
Organized for efficient use: species organized by group, then size from smallest to largest
Fact-filled information: accessible for beginners but informative for more experienced birders
Stunning photos: professional-quality sharpness and detail
Stan's Notes: naturalist information and interesting facts not found in other guides
Quick-Compare section: sketches, silhouettes, and photos for side-by-side comparisons
Birds of Prey of the Midwest Field Guide is applicable to the states of Illinois, Indiana, Iowa, Kansas, Kentucky, Michigan, Minnesota, Missouri, Nebraska, North Dakota, Ohio, South Dakota, and Wisconsin.
About the Author
---
Naturalist, wildlife photographer and writer Stan Tekiela is the originator of the popular state-specific field guide series. Stan has authored more than 190 educational books, including field guides, quick guides, nature books, children's books, playing cards and more, presenting many species of animals and plants. With a Bachelor of Science degree in Natural History from the University of Minnesota and as an active professional naturalist for more than 30 years, Stan studies and photographs wildlife throughout the United States and Canada. He has received various national and regional awards for his books and photographs. Also a well-known columnist and radio personality, his syndicated column appears in more than 25 newspapers, and his wildlife programs are broadcast on a number of Midwest radio stations. Stan can be followed on Facebook and Twitter.