Bird Nests: Amazingly Ingenious and Intricate (Nature Appreciation) (Paperback)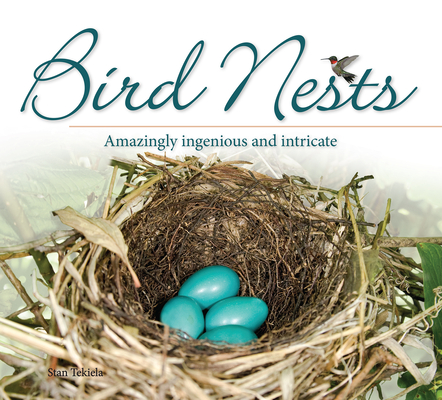 Description
---
Appreciate the Elaborate Creations of Birds
Nests--among the most amazing dwelling places in the entire animal kingdom. Few creatures craft such brilliant and involved homes as birds do. From holes drilled into trees to intricately woven cups, these magnificent structures are worthy of our admiration. This book by Stan Tekiela is filled with unparalleled photography, and it promises to delight as it walks you through the world of bird nests.
Book Features
One-of-a-kind images of birds and nests from across the United States
Many fascinating facts, including how birds choose where to build and what materials they use
Information that will season your understanding of nests and enhance your enjoyment of birds
This beautiful, thorough look at bird nests is perfect for anyone who treasures nature.
About the Author
---
Naturalist, wildlife photographer and writer Stan Tekiela is the originator of the popular state-specific field guide series that includes Mammals of Wisconsin Field Guide. Stan has authored more than 190 educational books, including field guides, quick guides, nature books, children's books, playing cards and more, presenting many species of animals and plants. With a Bachelor of Science degree in Natural History from the University of Minnesota and as an active professional naturalist for more than 30 years, Stan studies and photographs wildlife throughout the United States and Canada. He has received various national and regional awards for his books and photographs. Also a well-known columnist and radio personality, his syndicated column appears in more than 25 newspapers, and his wildlife programs are broadcast on a number of Midwest radio stations. Stan can be followed on Facebook and Twitter.