Fried Twinkies, Buckle Bunnies, & Bull Riders: A Year Inside the Professional Bull Riders Tour (Hardcover)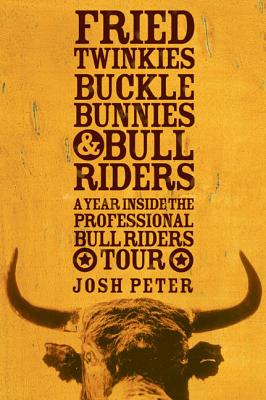 Description
---
An intimate look at a fascinating subculture, its star personalities, and the death-defying confrontation between man and beast that has made bull riding the fastest growing sport in the world.

Just as spectators flock to a NASCAR race because of its inherent danger, bull riding possesses a blood-and-guts excitement that sells tickets. In Fried Twinkies, Buckle Bunnies, and Bull Riders, award-winning sports journalist Josh Peter takes readers along on the 2004 Professional Bull Riders (PBR) tour to witness the sport's exploding popularity--and discover why athletes in spurs, cowboy hats, and colorful chaps are hooking millions of fans across the country.

The 2004 season begins like all PBR seasons, with 800 cowboys competing for a chance to be in the top 45 who ride in 29 major events during the season, with the best of the best taking home a $1 million bonus. Success is measured in seconds--managing to stay on a bull for 8 seconds without getting tossed is likely to secure a rider a big score. Most riders fail. Many get seriously injured; some die. Josh Peter captures the high drama of the sport and introduces readers to a culture that's rife with colorful characters: the courageous riders chasing their dreams, the scouts, breeders, love-struck groupies, and a few of those very angry bulls.
About the Author
---
JOSH PETER is the lead sports enterprise writer for the New Orleans Times-Picayune, and some of his in-depth features have appeared in The Sporting News. His numerous writing honors include several prestigious awards from the Associated Press Sports Editors (APSE) and Louisiana Press Association.
Praise For…
---
"A buzzing introduction to the world of professional bull riding, from New Orleans Times-Picayune sportswriter Peter.

If you're not one of bull-riding's millions of fans, here are the finer points of trying to stay atop a whirling ton of animal flesh. The rider must remain on the bull for eight seconds, never touching it with his free hand, or dropping his rope. (Women have yet to break into this muy macho profession.) He can ride underneath as long as he doesn't touch the ground, though he won't win any points for artistry. Judges award points for the rider's (and the bull's) performance. After a half-dozen rides or so, the man with the most points wins. The author describes the origins of modern bull riding, rooted in liquor, gambling and bragging rights. He depicts the riders' nocturnal rituals and outlines the sport's financial incentives: The top rider gets a $1 million bonus, while others are guaranteed not one cent. He focuses on the 2004 season, a hotly contested series populated by a number of very different individuals, each smartly profiled. That season featured a square-off between the Professional Bull Riders' president, an enormously popular ex-champ looking out for the riders' interests, and the PBR's CEO, whose eye was always focused on the bottom line. The competition was almost halted by a boycott-a sure indication that bull-riding has entered the big time. There were uncounted injuries, some serious, most of them ignored, and the season saw the flicker of a movement to ensure that the bulls weren't mistreated by the riders, who occasionally used devious and injurious tactics to weaken the animals. All that action keeps the writing spirited throughout.

A portrait of a sport boasting tremendous ferocity and mayhem that may soon give NASCAR a run for the money." —Kirkus

"The argument can be made that the Professional Bull Riders Tour may be the most dangerous, least financially rewarding of all sporting endeavors. Skull fractures, punctured lungs, and destroyed knees are all relatively routine injuries. At least now there is a million-dollar payout for the overall champion each season, but even that is in deferred dollars. Peter, a sportswriter for the New Orleans Times-Picayune, spent the 2004 season with the PBR tour and offers a penetrating portrait of a sport that stands at that awkward stage between minor league and national acceptance. The riders represent many nations besides America--some say Troy Dunn, an Australian, was the best ever--and Peter gives a glimpse into many of their lives. Much space is devoted to defending champion Justin McBride, a media darling with his boyish good looks who is only now realizing that the toughest part of being a champ is staying a champ. The book's title? Fried Twinkies are a genuine but rare concession delicacy, and buckle bunnies are the young ladies who curry the favor of the young macho men who ride the bulls. This is a tough book to walk away from. The icon of book-length sports journalism, John Feinstein, would be proud to include it in his body of work. It's that good." —Wes Lukowsky, Booklist (starred review)

"John Feinstein would be proud to include (Fried Twinkies)in his body of work. It's that good." —Booklist

"These are the brave souls who hang on for dear life (and glory) in Josh Peter's thrilling Fried Twinkies, Buckle Bunnies, and Bull Riders" —ESPN the Magazine

"Richly detailed and deftly told, Josh Peter's chronicle . . . is a rollicking, ribald take on the 8 most dangerous seconds in sport. You come away grateful that Peter has brought his considerable skills to the subject." —Wayne Coffey, best-selling author of The Boys of Winter

"Josh Peter's grip on his subject is as sure as that of the extraordinary men atop these astonishing beasts. Come discover an American fiesta: the Riding of the Bulls." —Gary Smith, writer, Sports Illustrated