Nourished Planet: Sustainability in the Global Food System (Paperback)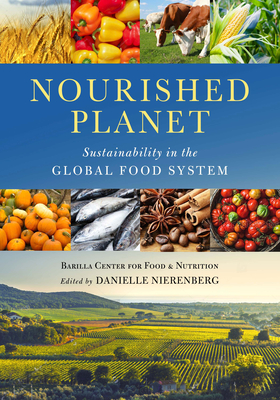 $27.00
Usually Ships in 1-5 Days
Description
---
Mangos from India, pasta from Italy, coffee from Colombia: Every day, we are nourished by a global food system that relies on our planet remaining verdant and productive. But current practices are undermining both human and environmental health, resulting in the paradoxes of obesity paired with malnutrition, crops used for animal feed and biofuels while people go hungry, and more than thirty percent of food being wasted when it could feed the 795 million malnourished worldwide.

In Nourished Planet, the Barilla Center for Food & Nutrition offers a global plan for feeding ourselves sustainably. Drawing on the diverse experiences of renowned international experts, the book offers a truly planetary perspective. Essays and interviews showcase Hans Herren, Vandana Shiva, Alexander Mueller, and Pavan Suhkdev, among many others. 

Together, these experts plot a map towards food for all, food for sustainable growth, food for health, and food for culture. With these ingredients, we can nourish our planet and ourselves.
About the Author
---
The Barilla Center for Food & Nutrition Foundation (BCFN Foundation) is a private nonprofit think tank, analyzing the effects of economic, scientific, social, and environmental factors on food. The foundation produces valuable scientific content that can help people make conscious choices every day about food and nutrition, health, and sustainability.
In 2013, Danielle Nierenberg co-founded Food Tank, a 501(c)(3) nonprofit organization focused on building a global community for safe, healthy, nourished eaters. Food Tank is a global convener, research organization, and non-biased creator of original research impacting the food system.
 
Praise For…
---
"This book is incredibly detailed and researched, full of infographics, charts, and statistics, but it is (surprisingly) free of jargon; and it is an immensely compelling read. For the layperson as well as the professional, it is informative, and alarming."
— Tulsa Book Review

"Persuasively informative and exceptionally well organized and presented."
— Midwest Book Review

"Offers hope in new directions toward more sustainable lifestyles."
— Seeking Alpha

"From A to Z, Nourished Planet is an encyclopedia for the future of food."
— Dan Barber, chef/co-owner, Blue Hill, and author of "The Third Plate"

"Provides viable strategies for building a food system that better sustains our bodies, environment, and communities. As both an organic farmer and a policymaker, I wholeheartedly appreciate the effort."
— Congresswoman Chellie Pingree

"One of the more important books to come out this year. Nourished Planet takes on the hyper-critical issues of today—sustainability, hunger, the future of our planet—and approaches them in a way that we can all understand."
— José Andrés, chef and advocate

"Nourished Planet reiterates what a small segment of the farmers are trying to do: not feed the world, but feed the world better. This book is an important reminder that respecting the Earth is better for the farmers, the animals, the environment, and the consumer."
— Paul Willis, founding hog farmer and President of Niman Ranch Pork Company

"This is a recipe book with powerful bite and lasting flavor. Its enticing instructions could actually save us, and life on earth, from disaster."
— Tristram Stuart, founder of Feedback and author of "Waste: Uncovering a Global Food Scandal"

"Nourished Planet not only shows how sustainable practices produce healthy food, but also demonstrates their economic viability. These are the solutions that will TRULY feed the planet."
— Forrest Pritchard, sustainable farmer and author of "Gaining Ground"