Guide to Wild Foods and Useful Plants (Paperback)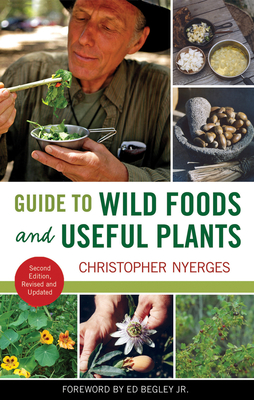 $24.95
Email or call for price.
Description
---
An array of abundant wild foods is available to hikers, campers, foragers, or anyone interested in living closer to the earth. Written by a leading expert on wild foods and a well-known teacher of survival skills, Guide to Wild Foods and Useful Plants is more than a listing of plant types—it teaches how to recognize edible plants and where to find them, their medicinal and nutritional properties, and their growing cycles. This new edition features more than 70 plants found all around the United States along with more than 100 full color photos plus handy leaf, fruit, and seed keys to help readers identify the plants. It also includes fascinating folklore about plants, personal anecdotes about trips and meals, and simple and tasty recipes.
About the Author
---
Christopher Nyerges is the director of the School of Self-Reliance, where he has taught classes on wild foods and survival skills since 1974. He is an associate editor of Wilderness Way and West Coast editor of Wild Food Forum. He has published hundreds of articles on wild foods, gardening, self-reliance, and survival skills in American Survival Guide, Whole Life Times, Mother Earth News, Herbalist, and many other magazines.
Praise For…
---
"If you're lost in the woods, the book could save your life; if you're interested in plant life and botany, the book is fascinating reading." —Booklist


"Unlike so many books on herbs and wild foods that simply repeat information the author read elsewhere, this guide is thoroughly tested and full of firsthand experience. It's also packed with the kind of information that makes identifying food plants fun." —Los Angeles Times

"I would not want to depend on feeding myself without this excellent book as a guide." —GreenConduct

"Well written and easily understood, this title will make a great addition where outdoor activities are popular." —Library Journal


"Pick it up and you will be off on a wild currant and gooseberry chase, amazing your friends with the knowledge that gooseberries have thorns while currants do not, that both make good trail snacks and that currant shoots make ideal arrow shafts...There is something supremely life-affirming about reading this book. It makes you want to give the heave-ho to the petty, pointless consumerism that so infects us. Its straightforward prose is an antidote to irony and political cant." —Pasadena Star News
"
Guide To Wild Foods and Useful Plants
has quickly become my favorite book and one which I carry with me when ... well ... whenever I leave the house. While I may not always harvest plants for food, this handy field guide gives me a new appreciation for the plants I encounter…
Guide To Wild Foods and Useful Plants
 is really a "must have" for anyone who wants to live closer to the earth."  —Reduce Footprints
"Nyerges' book was originally intended as a survival guide. But it offers more than that. By identifying plants that may have no name, place or purpose in today's society and revealing a world of history, uses and lore, the book wisely and matter-of-factly encourages a deeper relationship with nature. The message is also empowering." —Civil Eats
"Thoughtfully written and thoroughly tested,
Guide to Wild Foods and Useful Plants
is the most authoritative and comprehensive book on foraging for nature's provisions and preserving our ancient relationship with the Earth itself." —
Backwoodsman Magazine